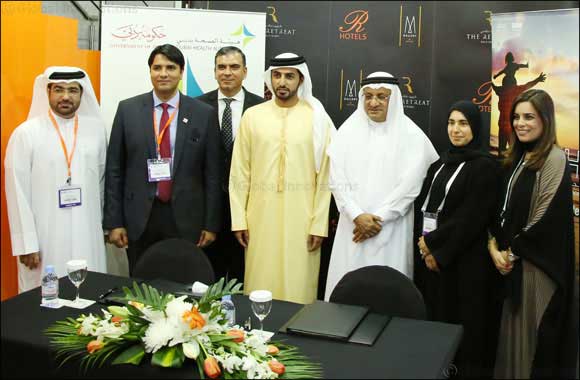 Dubai, United Arab Emirates, May 2, 2017: The Dubai Health Authority (DHA) has recently signed a memorandum of understanding (MoU) with The Retreat Palm Dubai MGallery by Sofitel Hotel, the first holistic health and wellness resort in the Middle East with an aim to drive wellness tourism in the region.
This collaboration is in line with the vision of the Dubai Health Experience, which is overseen and implemented by the DHA. The MoU was signed in the presence of Shaikh Rashid Bin Humaid Al Nuaimi, Head of Municipality and Planning Department in Ajman.
DXH was launched in April 2016 by His Highness Sheikh Hamdan bin Mohammed bin Rashid Al Maktoum, Crown Prince of Dubai, as a continuation of 'Dubai, a Global Destination for Medical Tourism' project. DXH is a highly integrated programme that aims to promote Dubai as a global centre for the provision of medical tourism services with a target of attracting half a million international patients by 2020. It is estimated that numbers will increase around 13% per year and that by 2021 over 1.3 million medical tourists will visit Dubai.
Scheduled for soft opening in summer 2017, The Retreat Palm Dubai MGallery by Sofitel will promise travelers relaxation and tranquility within a natural retreat, with its architecture, design and services inspired by "Serenity" - one of the hallmarks indicative of the MGallery brand, a collection of boutique hotels both inspiring and individually styled where "art de reservoir" enhances local discovery and shapes memorable moments. Situated along the iconic coastline of Dubai Palm Jumeirah's East Crescent, the 255-room upscale resort will offer a range of guestrooms and suites, as well as the first Rayya wellness center providing a range of all-inclusive retreat packages designed to improve mental and physical well-being, wellness facilities including a gym, yoga room, tennis court and swimming pool. Guests will also enjoy access to world-class wellness consultants and well-being treatments, in addition to bespoke nutritional programs available across the hotels' four food and beverage venues, which include a soon-to-be-revealed juice bar and dining concept.
His Excellency Humaid Al Qatami, Chairman of the Board and Director-General of the Dubai Health Authority, said: "Our strategy is focused on building strong ties with Dubai's finest healthcare providers to create an unparalleled experience for medical tourists. DXH group comprises today of 32 healthcare facilities in Dubai and the addition of this provider reflects our recognition of the importance of the wellness industry which aids preventative healthcare. Healthy eating and exercise are the pillars of good health and incorporating wellness in the hospitality industry is a positive trend."
Dr. Layla Al Marzouqi, Director of Health Regulation and Dubai Medical Tourism Project, commented " We aspire to position Dubai as the first medical tourism destination in the MENA region and to be among the top 10 medical tourism destinations in the world where DXH will be the ultimate gateway to the finest medical experts, premier accredited healthcare facilities whilst providing an incredibly unique experience in the iconic city of Dubai and wellness plays an important part of this vision."
Samir Arora, General Manager, The Retreat Palm Dubai MGallery by Sofitel, said : 'In line with Dubai's endeavor to climb up the healthcare as well as wellness tourism ranks and to establish the city as a medical and wellness tourism destination, we are proud to be a pioneer in introducing an all new unique concept in the region – the first holistic health and wellness resort and are very excited to become a strategic partner of Dubai Health Authority as the first Wellness Retreat in the Middle East. We are confident our partnership will strengthen Dubai's reputation as the most desired destination not only among leisure, business travellers, but also among healthcare and wellness oriented visitors from around the globe, including GCC, Europe, Russia and other CIS countries'.