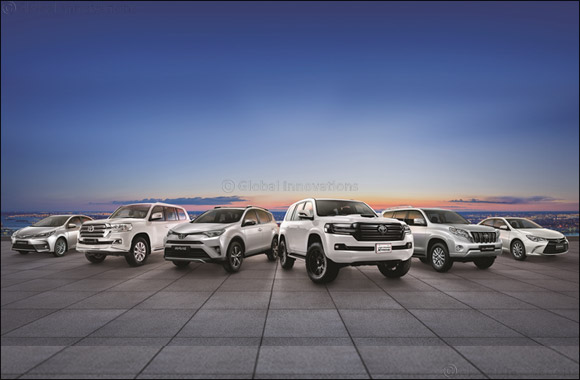 Ramadan promotion starts as early as May 1st
Dubai, United Arab Emirates, April 30, 2017 – Al-Futtaim Motors, leader in sustainable mobility and exclusive distributor of Toyota in the UAE, has launched this year's Ramadan offers with customers able to avail the best Toyota deals one month prior to the Holy Month, and enjoying these benefits until the end of Ramadan.
This year's Ramadan offers include deferred payments for up to 12 months on select vehicles, with Al-Futtaim Motors covering up to 8 months of payments. The offer also features three unique Toyota Land Cruiser models available in a limited edition, the company has made available exclusively for this occasion. Other exclusive deals include a one-time chance to own the 2017 Toyota Camry Platinum, featuring luxury leather upholstered seats, and offering interested buyers the opportunity of saving an unbelievable 20% down payment courtesy of Al-Futtaim Motors.
Customers looking to purchase any of the Corolla, RAV4, Camry, Prado, and the Pride of the Land Toyota Land Cruiser, will be able to avail 12 months deferred payments through Al-Futtaim Motors and their banking partners, with a low annual percentage rate (APR) of 3% and 3.1%.
Special Ramadan Editions which will be made available include the Toyota Land Cruiser 4.0-litre EXR with front and rear spoilers and sequential indicators, the Land Cruiser 4.6-litre GXR with Super Audio, and the Land Cruiser 4.6-litre and 5.7-litre VXR with Alcantara leather roof liner.
Saud Abbasi, Managing Director of Toyota at Al-Futtaim Motors, said: "Ramadan is always a special month for us here at Al-Futtaim Motors where we reach out to the community with the best deals in town on the Toyota cars they've always wanted, while making the purchasing process much easier through the 12 months deferred payment and low interest rates offer."
During the Holy Month, Toyota showrooms will welcome customers from 9am to 2pm, and 8.30pm to 12am, Saturday through Thursday, except Madinat Zayed showroom, which will only open from 9am to 2pm on Thursday. Toyota Dubai Airport Road showroom, Sheikh Zayed Road showroom, Dubai Festival City showroom, and Abu Dhabi Airport Road showrooms will also open on Friday from 8.30 pm to 11.30pm.