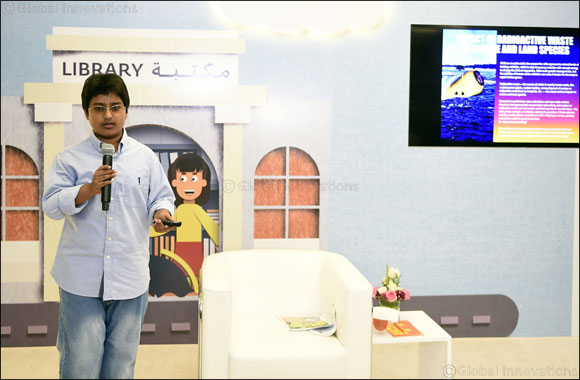 Youngest ever palaeontology author launches two more books
Sharjah, April 30, 2017
Twelve year old Pritvik Sinhadc has never been an ordinary boy. At the age of six he had written his first book on palaeontology and by the time he was seven, it was published. He was officially the world's youngest author of a publication on fossils and was confirmed as having a higher IQ than Einstein.
At the Sharjah Children's Reading Festival, Pritvik took the opportunity to launch two more books, one detailing the impact of nuclear waste on marine and land species and the other with the title 'Walking with Prehistoric Beasts'. With two post-graduate courses from the University of Alberta under his belt – one passed with 92% and the other with 100% – the astrophysicist, palaeontologist, scientist and author is looking forward to his next projects.
"I'm really hoping to organise a dig around certain sites within the UAE. It has some extremely interesting coral history and that would be a great chance to discover something new," he said.
A 'Straight A' student at Dubai College, Pritvik developed an interest and a love of dinosaurs as much as any boy his age, but he went further than cuddly toys and posters.
"My parents were actually quite worried about me, they thought I was obsessed and even had concerns that I was autistic because of my fascination with palaeontology, but then I had my IQ test and they were told that I was just a gifted scientist."
Pritvik, who talked his audience through the intricacies of the nuclear threat to DNA mutation and the medical connotations of ionizing radiation, explained that his love of fossils spread to the causes behind mass extinction and the possibilities of life on other planets.
"I think that's what really got me into astrophysics," he explained. "I could see the implications of the galaxy as a supporter of other organisms."
As for the future, Pritvik would like to use his intellect to benefit the planet and help in medical advances.
"I think the environment is certainly our biggest cause for concern at the moment and the methods of our usage and storage of nuclear waste is a danger to every living being on the planet, whether on land or on sea. This isn't something that will go away and I would like to help in developing an organic, sustainable way of solving that problem."