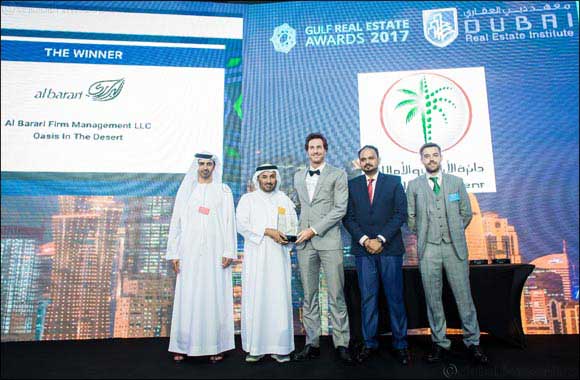 Dubai, United Arab Emirates, April 30, 2017: Al Barari was presented with the Best Real Estate Project (Luxury Residential) award by His Excellency Sultan Butti bin Mejren, Director General of Dubai Land Department at the region's first Gulf Real Estate Awards on April 17. Al Barari was honoured in front of nearly 300 real estate leaders at the largest and most prestigious real estate gathering in the region.
"We are very proud of this award and achievement. What we have achieved came from the heart of passionate, perfectionist and loving people." says Zaal Mohamed Zaal, Chairman of Al Barari.
Al Barari was up against the Gulf region's finest real estate organisations competing for a total of 21 awards. Over 100 entries were whittled down to a few dozen finalists, each of whom having to present their case in person to a panel of judges the day before the awards. The unique judging process not only ensured greater transparency, the open presentation sessions of the finalists also offered a rare insight into how the industry's finest are achieving success and driving innovation.
Mark Hamill, Managing Director of Awards International UAE, says: "Having a fully transparent awards process is essential for all our events - knowing you've beaten the best on merit alone does wonders for individuals and companies. Along with their award, our winners take home huge amounts of credibility when you take into account the high volume and quality of entries we received."