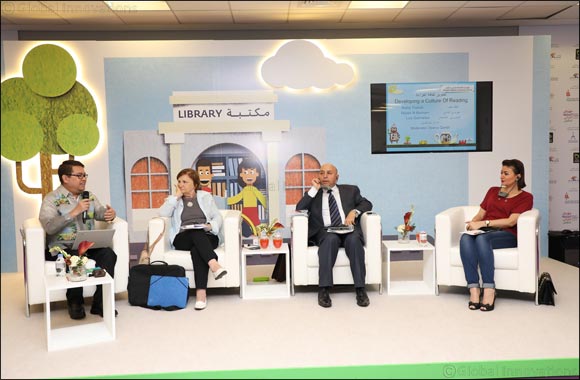 SCRF hears how children need to learn to love reading
Sharjah, April 28, 2017
A panel of distinguished children's authors met at the Sharjah Children's Reading Festival being held at the Expo Centre Sharjah until Saturday, to discuss the most effective ways of instilling a love of reading in children and young people.
Tunisian writers Nafila Thahab, who has written 29 books and Mizoni Al Bannai, who has written more than 70, were joined by Dr Luis Gatmaitan from the Philippines, an award winning author who uses bibliotherapy for sick children. He told the audience that many of his books were based around medicine.
"If you can explain and illustrate the right story, it can put complex medical procedures into fairly simple terms and help the children to understand them. It stirs a certain curiosity if they see that any subject is accessible." The author's work is now being used educational supplements in schools around the country.
In answering the question of how to encourage more children to read, Nafila Thahab believes there are two distinct schools of thought: "On one hand we have the adults who are very much tied to the classics and on the other, we have a more progressive set of parents who see that the world has moved on and we need to move with it. Obviously, the electronic revolution has made a difference we will never be able to reverse, and to a large extent, we shouldn't want to.
"As authors we need to adapt and embrace the huge amount of new channels there are for more and more children to enjoy our stories."
Mizoni Al Bannai agrees and adds that not only have the children changed in the resources available to them, they have changed as characters. "We have a global audience now with Facebook and Instagram and Twitter. Children are no longer classified as they used to be. At one point, young people were identified as a certain class, or set, or group, but there are new orders and blurred lines and we really need to rethink who we are actually writing for. If we don't know, we cannot possible hope to engage them.
"I think social media has provided us with a great service and as authors we have failed to attract children to a love of reading. We must all realise that we have a great responsibility to the generations to follow."
Nafila Thahab went further, saying the industry as a whole needed to take responsibility. "Writers, illustrators and publishers must realise that they must all work as a team to produce well written, well designed books that appeal to the right children at the right ages and be able to take pride in their work and be proud of the results."
All panellists agreed that the most important and effective way to encourage children to read was for the family, particularly the parents to read with them.
"It is essential that parents get into the habit of a book at bedtime. They say that charity begins at home, well, reading is one of the greatest gifts of all. It also helps enormously if sons and daughters see their parents reading for themselves as this reinforces the fact that it is enjoyable and often magical," said Luis Gatmaitan.
"The power of reading can genuinely be a spiritual experience," he continued. "With bibliography, we use books and reading as a form of therapy for all sorts of issues, whether they are psychological or physical. Where a child, for example is being bullied, if he reads a book where the central character is going through the same scenario and overcomes the problem, it gives the child a much more positive outlook and provides some solutions on how to cope with the situation.