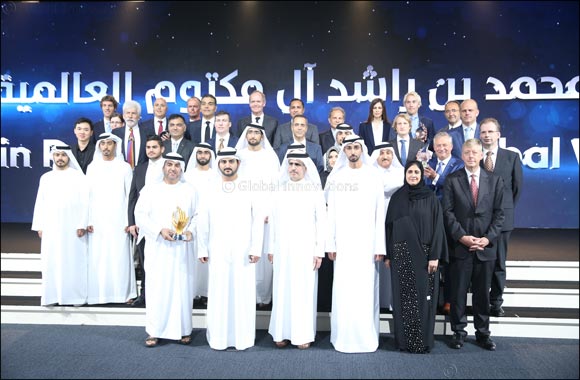 MI Receives Award in 'Innovative Research and Development' Category for Inexpensive Device for Water Desalination
Abu Dhabi-UAE: 27 April, 2017 – His Highness Sheikh Maktoum bin Mohammed bin Rashid Al Maktoum, Deputy Ruler of Dubai, today presented the Mohammed bin Rashid Global Water Award to Masdar Institute of Science and Technology, part of Khalifa University of Science and Technology.
A ceremony was hosted by the award organizers where Dr. Peter Armstrong, Associate Professor of Mechanical Engineering at Masdar Institute, was granted the award along with MI students and management. The award aims to find and support innovative solutions to water shortage and scarcity worldwide. Two other teams from Khalifa University of Science and Technology were also recognized, for a dual disinfection modified biosand filter coupled with solar pasteurizer (Khalifa University) and a solar powered air water generator (Petroleum Institute). The Mohammed bin Rashid Global Water Award includes a US$1 Million prize.

An inexpensive desalination process developed by a team led by Dr. Armstrong was shortlisted from 10 other projects in the 'innovative research and development' category. The device works on solar power and uses a perforated black fabric to collect purified water through the humidification-dehumidification process. The device is half the size of a traditional solar still of equal production capacity and is easy to assemble from simple materials--fabric and PVC pipe but no glass.

Dr. Steve Griffiths, Interim Executive Vice President for Research, Khalifa University of Science and Technology, said: "We are proud of Dr. Armstrong's selection for the Mohammed bin Rashid Global Water Award. He joins our growing list of researchers who are advancing science and innovation in the pursuit of sustainable energy and water solutions for the UAE and wider region. I congratulate to Dr. Armstrong for his excellent research and this well-deserved recognition."
The Mohammed Bin Rashid Global Water Award recognizes innovative research that could demonstrate measurable results by means of a prototype or pilot in operation for at least six months prior to the date of submission of the application. Winning projects are required to have been developed and executed in-house with the aim of extracting safe drinking water from natural sources in line with World Health Organization (WHO) guidelines. The water treatment and removal of possible pollutants also had to be powered exclusively by solar energy. Additionally, extra points were awarded for solutions that could easily be installed, operated and maintained without the need for specialized manpower and equipment in different and harsh ambient conditions, using low cost and maintenance friendly technology. Dr Armstrong's invention met all these conditions.

Commenting on his win Dr. Armstrong said: "A billion people, many in small and isolated communities, do not have access to adequate potable water. The Mohammed bin Rashid Global Water Award helps the world to recognize this serious problem and encourage solutions that benefit such underserved communities. I am grateful to the award committee for selecting this project. On a personal level, helping to address needs of humanity is deeply satisfying, humbling and inspiring."

Dr. Armstrong leads projects at Masdar Institute in model-predictive control of high-performance cooling systems with building integrated thermal storage (TABS); optimal control of district cooling plants with and without thermal energy storage; Gulf Cooperation Council (GCC) region-specific cooling equipment designs and performance standards; micro-climate and urban form; model identification of transient thermal processes; solar resource assessment (Direct Normal Irradiation, circumsolar, aerosols); solar desalination and liquid desiccant regeneration; and concentrating solar power at the Beam-Down Optical Experiment (BDOE).

Author of several leading papers, Dr. Armstrong has a successful 35-year track record in passive and active solar energy, heat transfer, and building science, including eight years at the Colorado State University Solar Energy Application Laboratory and more than 15 years at US Department of Energy's Pacific Northwest National Laboratory. His international experience includes three years' monitoring performance, modeling and verifying energy retrofits for the World Bank Enterprise Housing Divestiture Project in the former Soviet Union and at a United Nations Development Program solar instrumentation and monitoring mission at the Gansu Natural Energy Research Institute in Lanzhou, China. He has consulted for the Electric Power Research Institute and National Renewable Energy Laboratory in the US.