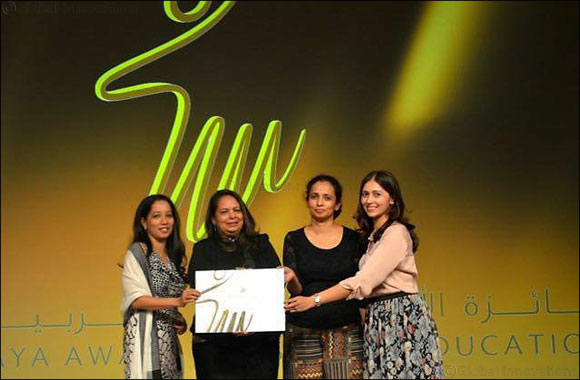 Al Noor Training Centre for Persons with Disabilities was appreciated for its efforts and contribution towards enhancing the lives of children with special needs.
Dubai, 27th April, UAE: Al Noor Training Centre for Persons with Disabilities has been working dedicatedly for children with special needs to enhance their lives in many aspects through advanced education methods. Their efforts were recognized as they were honored with Princess Haya Awards for Special Education (PHASE) for their commendable work in the field of assistive technology for special children. The Centre was announced the winner for "Outstanding Awareness Campaign in the Category of Institutional excellence for their initiative Windows 10 presents Al Noor Assistive TechX 2015".The award was presented by HRH Princess Haya Bint Al Hussein, wife of His Highness Sheikh Mohammed Bin Rashid Al Maktoum, Vice President and Prime Minister of the UAE and Ruler of Dubai to Mrs. Isphana Al Khatib, Director of Al Noor Training Centre at the Johara Ballroom Madinat Jumeirah. The event was attended by dignitaries and representatives from Special Needs Centre's across UAE, GCC and South Asia.
It was a moment of pride for all people associated with this initiative at the Centre. Mrs. Isphana Al Khatib, Director of Al Noor Training Centre quoted, "The award is a great validation for the work and effort of the Al Noor team in raising the profile and possibilities of Assistive Technology in the field of disability". Assistive TechX which took place in Al Noor highlighted the vital and the powerful role of Assistive Technology in improving educational outcomes and future sustainable employment opportunities for individuals with disabilities. Assistive Technology is the medium used to maintain or improve the functional capabilities of a person with a disability. This equipment can range from low-tech adaptive devices, such as pencil grips and slant boards, to high-tech devices such as speech generating communication devices. The Centre focuses on providing wholesome and successful training plans for their students through Assistive Technology for their overall development.
Eminent Assistive Technology specialists from around the globe conducted interactive seminars for professionals and parents to share their in-depth knowledge on the subject. The agenda for the event was to raise awareness on the importance of Assistive Technology for people with disabilities and how it can assist people with special needs in aspects like accessibility, participation, quality of life, employment, education, training and social integration.