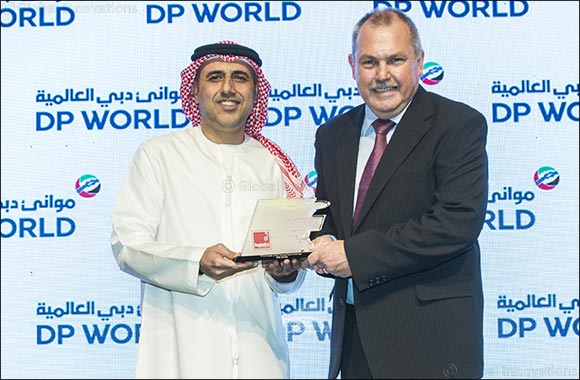 Dubai, UAE 25 April 2017 – GAC Dubai's world-class service to the Middle East's busy Fast Moving Consumer Goods (FMCG) sector has earned it the FMCG Supply Chain Management Award in this year's Logistics Middle East Awards.
The Award, which was presented last week in Dubai, recognises the procedures, training and technology deployed by companies in ensuring a seamless, safe and efficient cold chain. By selecting GAC Dubai, part of the global GAC Group, as the winner, the panel of judges acknowledged and applauded its ability to provide top-notch supply chain management services to the industry.
The award was received by Neil McMaster, General Manager of Contract Logistics, who says: "Team work and communication are critical to an efficient supply chain operations, especially for fast-moving industries like food and beverages. Every link in the supply chain must respond quickly and accurately to bring customers' products to market. This award is a recognition of the unstinting efforts, commitment and entrepreneurial skills of both management and our Value Added Services team, without which we would not be able to deliver the quality service GAC is known for and which has earned us this accolade."
Fredrik Nystrom, GAC Group Vice President for the Middle East, adds: "The FMCG Supply Chain Management Award is further testament of GAC's proven commitment to provide high quality and innovative services to meet our customers' needs. That commitment is also seen in our investment in our new Dubai South warehousing facility which will start operations early next year, fully equipped with the latest technology to deliver the best value support to our customers."
GAC has been a pioneer in FMCG supply chain management in the Middle East for almost a quarter of a century. It opened the Middle East's first Distribution Centre in Dubai in 1993 and today, the 103,000sqm GAC Logistics Park in the Jebel Ali Free Zone remains one of the largest and most advanced in the region. Construction is underway on GAC Dubai's newest warehousing facility, at Dubai South, which will bring the company's total capacity in the Emirate to more than 200,000 pallet positions serving local and regional customers.