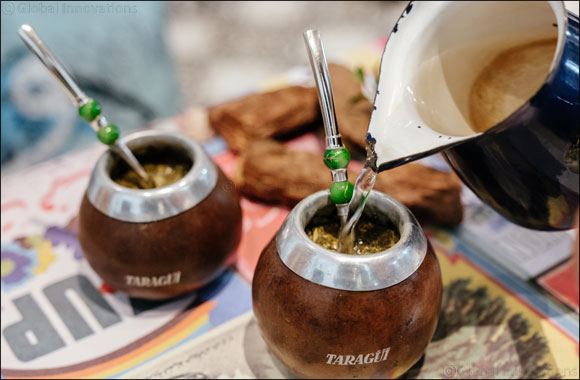 Dubai, April 23, 2017: Maté tea, a superfood, fat-burning miracle, stress-reliever, and all-natural energy drink has hit Dubai and made its way to Hala, the recently opened Lebanese organic café in the World Trade Centre. Yerba Maté tea is the tea trend you can't miss out on – be one of the first in the region to sample its unique flavor and experience all the health benefits it has to offer.
Maté tea not only has the nutritional powerhouse benefits of green tea, but also the strength of coffee, and the feel-good euphoria of chocolate; what more could you want! Maté tea, also known as Yerba Maté, is a hot South American beverage made by soaking the ground leaves and stems of the yerba Maté plant before submerging in hot water. Considered a staple drink in South America, Maté tea has been passed on from culture to culture, bringing its traditional influence across the world to Lebanon and Syria in the 19th century.
This rare and somewhat unique drink is made from the dried leaves of a plant found native to South America and contains many nutrients, including antioxidants, amino acids, polyphenols, vitamins and minerals. The plant is found in the wild but is also cultivated on plantations and farmed like other varieties of tea. While it may be an acquired taste, you might want to give it a chance, here's why:
Carries a long history of medicinal uses; as a general nerve tonic for pain, fatigue, depression and for allergies and sinusitis
Can boost energy and mental focus
Enhances physical endurance
Supports cardiovascular health
Aids digestion
Reduces and attacks cancer cells
Yerba Maté contains the largest antioxidant levels among 25 tea-based and non-tea-based drinks
Eliminates stress and relieves insomnia
Happy Maté tea time!
Hala is available for direct home or office delivery, and can be found on all major delivery services, Talabat, Deliveroo and Zomato.
Hala is located on the Ground Floor, Convention Tower, World Trade Center, Dubai