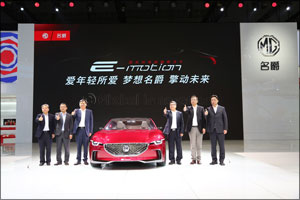 • New high-performance technology delivers acceleration of 0-100KM/h in under 4 seconds
• Model stands alongside new Liverpool customised version of the MG ZS
(Middle East, 20th April 2017) : The new MG electric supercar concept - MG E-motion, made its global debut on the MG stand at the 17th Shanghai International Auto Show. With 94 years of history, this legendary British brand is enjoying a significant revival thanks to recent scientific and technical innovation, delivering a stunning new concept model that combines high standards in design and performance that marks an exciting new era for the manufacturer.
The MG E-motion concept embodies MG's brand-new exterior design essence. The concept model has dynamic and elegant body proportions, with the positioning of the A column making the front of the model visually more slender. Elsewhere, the model's front grille adopts an LED starlight matrix design, while the headlamps inherit MG's particular design elements inspired by the London Eye.
Developed with the younger generation in mind, the model is equipped with a series of what the manufacturer calls "Black Technology". Based on MG's parent company, SAIC's new pure electric modular architecture platform, MG E-motion concept is capable of 0-100KM/h in under 4 seconds and has a range of over 500km. Equipped with an intelligent interconnection system, the MG E-motion concept is also able to comprehensively satisfy passenger connectivity demands while on the move.
Commenting on the new model, Wang Xiaoqiu, General Manager of SAIC Motor Passenger Vehicle said: "MG is committed to manufacturing fashionable cars for young people. The new MG E-motion concept and previously unveiled MG ZS are designed not only to satisfy millennials' needs, but also to demonstrate new innovative technology of MG Motors."
In addition to the concept reveal, the show also saw the launch of MG's new Liverpool customised version of the MG ZS which was unveiled by Anfield legend, Ian Rush. The model is set to go on sale in the Chinese market.