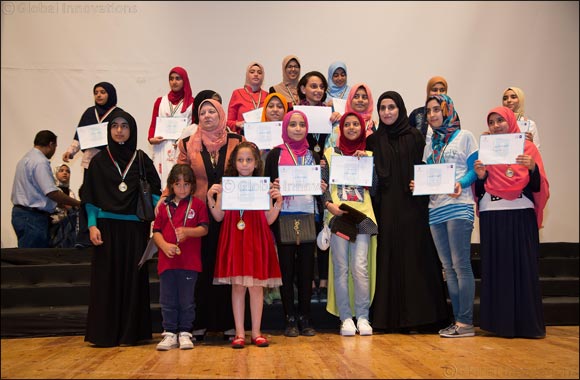 Minister of Education honours ARC participants and winners
Egypt: 19 April, 2017: Arab Reading Challenge (ARC) participants were honoured at a ceremony held under the patronage of the Minister of Education His Excellency Dr. Tarek Al Shawki and ARC Secretary General Najla Al Shamsi.
His Excellency honoured Abdullah Ammar, the Egypt ARC champion who is in the 5th grade at Al Noor School for the Blind in Ismailia, Fathia Sayed Abdel Razzaq, the winner of the distinguished supervisor award and Hassan Abu Bakr School, the winner of the best school award for the state.
ARC Secretary General Najla Al Shamsi said, "We are pleased with the sheer size and level of participation that we saw in Egypt, and the support we received from the Minister of Education His Excellency Dr. Tarek Al Shawki. One of the challenges behind ARC is to get students excited about learning, and to get them engaged with the Arabic language, strengthening and protecting its role in the region's development."
His Excellency also honoured all ten student finalists, Suhaila Mohammed Eid (8th grade at Matrouh Preparatory School in Marsa Matruh), Safa Taha Abdullatif (1st grade at Othman bin Affan School in Giza), Ahmad Ali Tamam (5th grade at Shirket Alsukkar School in Giza), Sama Mahmoud Abdullatif (12th grade at Suhaj Secondary School), Mohammed Ahmed Al Doqi (10th grade at Sadat Secondary School in South Sinai), Suheir Eid Alyan (10th grade at Deir Mawas School in Minya), Zaynab Hamdi Tawfiq (11th grade at Hussein Hammad School in Dakahlia), Mustafa Said Imam (3rd grade at the American Language School in Monufia), and Reem Jaber Suleiman (11th grade at Al-Masa'id Secondary School North Sinai). His Excellency My. Mahmoud Al Shabrawi Abdullah Hashim and Mr. Abdeen Ahmed Abdulsamaie were also honoured as distinguished supervisors, as well as the American Language School in Monufia, which ranked second best in the nation.
Over 2.9 million students in Egypt alone, from various grades, made it to the second phase of the Arab Reading Challenge; four committees were formed and assessed the participants. Alongside, the top ten winners from last year (2015/16) competed in the ARC Diamond Round; the students read 75 books in an academic year, and were assessed by a committee dedicated to assessing supervisors, schools and the Diamond Round participants.
The Arab Reading Challenge was launched by UAE Prime Minister and Vice President and Ruler of Dubai His Highness Sheikh Mohammed bin Rashid Al Maktoum in September 2015. It represents the largest pan-Arab reading project, and aims to promote a sustainable model for reading through an integrated system of student-supervisor follow-ups and support, as well as monetary incentives for students, supervisors and schools across the Arab World. The project hopes to instigate a cultural renaissance in the Arab World by encouraging students to read and continuously expand their knowledge.