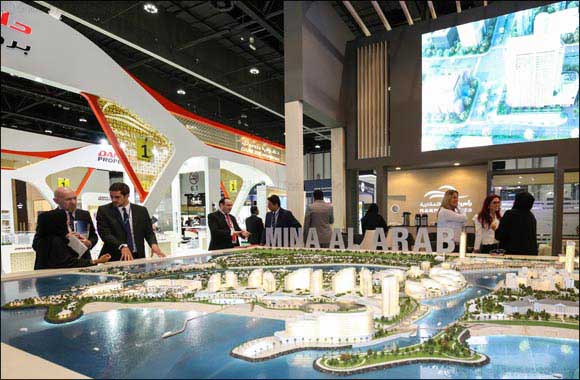 UAE capital's leading real estate event returns as research reveals the Emirates tops the charts for Middle East investment
Abu Dhabi, UAE, 19 April, 2017: The 11th edition of Cityscape Abu Dhabi opened its doors today to thousands of local, regional and international visitors who flocked to the capital's largest real estate event to meet more than 100 exhibitors and see a host of new project launches.
The three-day property exhibition comes as new regional market research studies reveal that the UAE is the most appealing country to invest in real estate in the Middle East.

Figures from a new YouGov survey, commissioned ahead Cityscape Abu Dhabi revealed that 88% of home buyers, individual investors and institutional investors believe that the UAE is the most appealing country to invest in real estate in the region, followed by Qatar (4%).
This preference mirrors home owners' and buyers' reasons for wanting to invest, with return on investment (81%), capital appreciation (78%) and the availability of multiple options (78%) to be the main drivers behind the UAE's appeal.
Taking place from 18-20 April at Abu Dhabi National Exhibition Centre (ADNEC), Cityscape Abu Dhabi is held under the patronage of His Highness Sheikh Mohamed bin Zayed Al Nahyan, Crown Prince of Abu Dhabi and Deputy Supreme Commander of the UAE Armed Forces.

With approximately 3,100 residential units completed in Abu Dhabi last year, predominantly within Reem Island, Saraya, Danet and Rawdhat, the total property stock reached 248,000 units in the capital.
David Dudley, Head of Abu Dhabi Office, JLL revealed in his key note speech and quarterly report at the Cityscape Abu Dhabi Conference today (Tuesday 18 April) that a significant proportion of the 5,000 units scheduled for completion this year may face some delays in the final stages of approvals and handovers, in order to alleviate and measure supply and demand.

Dudley said: "There are signs of 2017 and 2018 supply completions being higher than 2015-2016. We expect that as market conditions start to improve in Dubai and government spending returns to Abu Dhabi, the market will head back towards recovery and it will be important for supply completions to remain balanced."

The half-day conference also saw H.E. Khalifa Bin Salem Al Mansouri deliver a welcome speech, followed by Omar Al Busaidy, Abu Dhabi Experience Development Unit Head, Tourism & Culture Authority Abu Dhabi, who delivered a keynote speech on Destination Abu Dhabi discussing the anticipated impact of upcoming landmark projects in the capital on the UAE's real estate sector.
More than 100 exhibitors are out in full force this week at Cityscape Abu Dhabi showcasing their latest developments and offering exclusive discounts and promotions to visitors of the exhibition.
TDIC presented its residential real estate offerings available for sale on Saadiyat island, including a preview of the apartments for purchase in Mamsha Al Saadiyat, the first development of its kind in the Saadiyat Cultural District, and home to the single largest collection of acclaimed cultural assets in one setting: Zayed National Museum, Louvre Abu Dhabi, Guggenheim Abu Dhabi and Manarat Al Saadiyat.
The Abu Dhabi Urban Planning Council (UPC) revealed that a number of mosques, parks, playgrounds and sports facilities will be developed across Abu Dhabi as part of their initiative for the Year of Giving, while Wahat Al Zaweya Company for Investment and Real Estate Development launched 400 pieces of land for UAE nationals.
Aldar launched their latest mid-market project on Reem Island – The Bridges, a 1,272 unit, AED1.3billion development which offers high quality amenities and a prominent location close to Abu Dhabi's main business and cultural districts, with prices starting from AED450,000.
Bloom Properties announced the commencement of the main works at Faya, the fourth phase of its master planned community in the UAE capital's Bloom Gardens.
A new feature on the show floor, Cityscape Talks became a hub of activity as visitors took advantage of the free to attend presentations designed to help them make informed investments at the event.
Lynnette Abad, Partner at Property Monitor, will be one of the experts to address the crowds during the Talks today (19 April).
Abad said: "While the rate of decline in Abu Dhabi residential prices has slowed in comparison to the last year, the market is expected to remain under pressure from the fallout of redundancies and oil price movement.
"That said, communities with established infrastructure, amenities and locational advantages have fared better and these factors are expected to drive demand in future as well. Also, an interesting shift in neighbouring Dubai market this year is the entry of residential options at lower price points, for instance villas for as low as AED 1.8 million, and such offerings targeting first time buyers could stimulate activity from a wider set of buyers within the Abu Dhabi market."

Reinforcing the sustained investor confidence in the local market, a number of major UAE developers have a commanding presence at Cityscape Abu Dhabi this year, including Aabar Investments, Azizi Developments, Eagle Hills, Hydra Properties, Mubadala and Tamouh Investments.