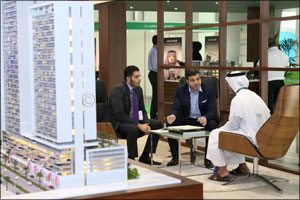 No signs of slowing down; exhibitors report high number of sales on opening day of capital's largest real estate show
Abu Dhabi, UAE, 19 April, 2017: Investors and buyers are out in full force at Cityscape Abu Dhabi this week, as exhibitors reveal hundreds of new property launches, special promotion rates and payment plans for a host of local, regional and international real estate projects across a range of price points.
Taking place until 20 April at Abu Dhabi National Exhibition Centre (ADNEC), Cityscape Abu Dhabi is held under the patronage of His Highness Sheikh Mohamed bin Zayed Al Nahyan, Crown Prince of Abu Dhabi and Deputy Supreme Commander of the UAE Armed Forces.

Driving the sales on the show floor, Bloom Properties launched their Dubai-based project Bloom Towers in Jumeirah Village Circle which has already proved to be a big hit with mid-market buyers on the opening day of the show.
Sameh Muhtadi, CEO for Bloom Properties said: "The response so far for Bloom Towers has been amazing. We know that the mid-market segment is a key focus at the moment as the demand is still strong. Historically, approximately 90% of our annual sales occur at Cityscape events and we are positive that with our 5% discount, as well as our new payment schemes introduced for the first time in Abu Dhabi, this year will be another major success."
In line with the UAE Vision 2021 National Agenda to increase green growth across the region, the Abu Dhabi Urban Planning Council (UPC) revealed the latest updates on the Zayed City project, one of the most promising and largest developments in the UAE.

H.E. Falah Al Ahbabi, Director General of the UPC said: "Throughout its ten-year history the UPC has attended every Cityscape Abu Dhabi event to date and has benefitted a great deal from having such a fabulous platform to be able to announce significant milestones not just for the organisation, but the entire emirate and everyone within it.
"This year's event is extra special as we are updating the community on the most ambitious project in the UAE right now, Zayed City, which will span an incredible 45sqkm area across Abu Dhabi as it becomes the new heart of the city."
Leading property developer Aldar also revealed plans to invest AED250 million into a new public park on Reem Island, comprising retail, sports, food and beverage, and beach facilities, which is set to be completed in 2018.
Other main launch news included Abu Dhabi-based real estate developer IMKAN, which announced its first project, Makers District, an 18-hectare mixed-use development on Reem Island.
Enticing investors and home buyers to purchase a property at the three-day show, Azizi Developments are offering mortgage pre-approval packages of AED3,325 per month, as well as flexible payment plans.
With a successful opening day for the capital's largest real estate event, delegates and industry experts came together at the half-day Cityscape Abu Dhabi Conference to address the challenges currently facing the market and look at the different strategies to diversify the sector.
With a heavy focus on tourism and free zones, H.E. Khalifa Bin Salem Al Mansouri delivered a welcome speech, followed by Omar Al Busaidy, Abu Dhabi Experience Development Unit Head, Tourism & Culture Authority Abu Dhabi, presenting a keynote speech on Destination Abu Dhabi. David Dudley, Head of Abu Dhabi Office, JLL also revealed the real estate sector quarterly report.
Cityscape Talks drew the crowds on the opening day, with visitors taking advantage of the free to attend presentations. Franke Wiesse, Director KSA, Drees & Sommer, took to the show floor to discuss Efficiency Improvement in Construction Projects.
He said: "Understanding how to improve the efficiency of construction projects is a hot topic at the moment, not only within this region but also worldwide. It is important for us to provide an insight into the complexity of design and construction projects which create value and to explain why single measures are often not really sufficient.
"Drees & Sommer combine the German management skills and engineering know how with the understanding of the culture, attitude and demand of our clients in this region and the Cityscape Talks is a great way for me to get the word out and answer any questions that visitors, investors and developers may have."