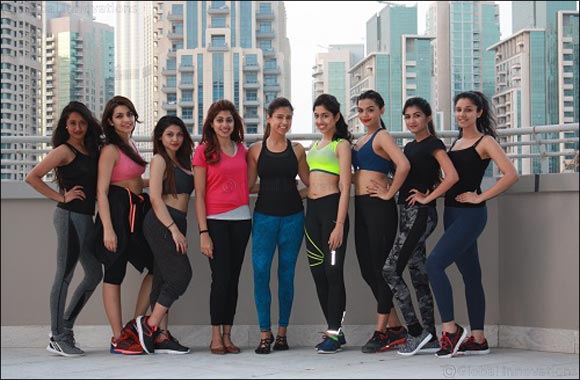 Fitness Trainer and founder of A-Tone Fitness Lounge, Anjali Chandiramani, is the brain behind the bodies of the upcoming Miss India UAE finalists with her formula of CROSS-CUITTM Training coupled with Yoga and Pilates
A-Tone Fitness Lounge is the first of its kind urban fitness center that provides both Yasmin Karachiwala's Bollywood mantra of Body Image Pilates along with a game-changing new fitness trend, CROSS-CUITTM by Anjali Chandiramani
A-Tone Fitness Lounge is in Prime Tower, Business Bay, Dubai
Dubai, United Arab Emirates, April 17, 2017: A-Tone Fitness Lounge, a lifestyle fitness center that embraces positive body image building, is onboard as the official fitness partner of the Miss India UAE pageant, to be held on 29th April, 2017 in Dubai. Under the leadership of certified Pilates and CROSS-CUITTM trainer, Anjali Chandiramani, the fourteen finalists of the Miss India UAE pageant are toning up with the right nutrition and exercise regimes for a holistic fitness rehash just in time for the pageant. The celebrated fitness trainer and entrepreneur uses her own creation, CROSS-CUITTM, a hybrid of strongman and calisthenics styles of working out coupled with a time-based model of circuit training, as well as Bollywood's favorite fitness method, Body Image Pilates by Yasmin Karachiwala and Swing Yoga along with targeted diets and lifestyle regimes for the total body transformation of the finalists for the beauty pageant.
The fitness lounge is a center of spunk, positive beats and energy, and offers Swing Yoga as part of its three core fitness regimes. Frequented by A-Listers such as Sophie Choudry, the fitness center is as much a social hub in the city as it is a place of physical and mental transformation. A-Tone offers a plethora of trainers operating in three state-of-the-art studios to target the needs of every trainee for a holistic lifestyle transition.
Anjali Chandiramani, Founder, A-Tone Fitness Lounge, said, "We are excited to be onboard as Fitness Partners for the upcoming Miss India Pageant to not only train the girls, but also to crown one of them in the fitness realm at the pageant. It's been a great journey of discovery for all the girls, who have blossomed and groomed themselves with grace throughout this time. We have worked on every aspect of their training to make them leaner and stronger for the pageant to come. I look forward to the results and rewards they will reap from their training with us, and look forward to what's in store in each of their journeys."
Eisha Ramrakhiani, Director Events, Emirates Vision Events, said, "We were looking for a sound fitness partner, and who better than Anjali and her team here at A-Tone Fitness Lounge? I have seen our finalists being groomed into the beautiful women they are becoming now and despite the competitive edge of the competition, the girls have united to help each other out in their fitness goals through A-Tone and its comprehensive program. I wish all of them the very best, and look forward to another successful and beautiful season of the Miss India pageant."
The 3,000 sq ft fitness lounge hosts three studios, being one for Pilates, Yoga and CROSS-CUITTM. CROSS-CUITTM training takes place indoors at the studio as well as on a roof-top area reserved for the fitness center to keep challenging the body for an hour of time-based resistance training. A-Tone Fitness Lounge also provides healthy foods created with gluten-free, sugar-free and organic ingredients for a holistic diet, as well as flavored non-fat protein shakes to round off the most intrinsic lifestyle-orientated workout joint in the region.
A-Tone Fitness Lounge is located at Prime Tower, Business Bay, Dubai.