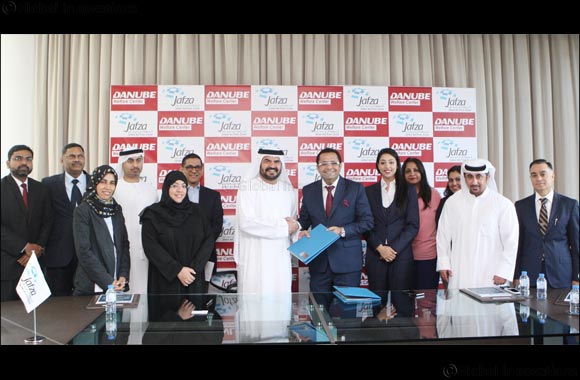 Training centre to offer free courses to further careers
Dubai, United Arab Emirates 17 April, 2017: Jebel Ali Free Zone (Jafza), a DP World Company and the UAE's flagship trade and logistics hub for the Middle East region and Africa and Danube Group have signed a Memorandum of Understanding to train and develop unskilled workers in the free zone at the Danube Welfare Center.
The MoU was signed between Mohammed Al Muallem, CEO of Jafza and Senior Vice President & Managing Director of DP World - UAE Region and Rizwan Sajan, Founder and Chairman of Danube Group, in the presence of senior officials. It will create a non-profit local training centre delivering free seminars, lectures and a comprehensive curriculum.

Sultan Bin Sulayem, Group Chairman and CEO of DP World and Chairman of Ports, Customs and Free Zone Corporation, said: "As part of our community-wide initiatives, we are delighted to cooperate with the Danube Group to provide quality training to unskilled workers living in Jafza staff accommodation that will help them improve their quality of life and careers. This is in line with the directives of HH Sheikh Mohammed bin Rashid Al Maktoum, Vice-President and Prime Minister of UAE and Ruler of Dubai in the "Year of Giving", making a difference to people's lives. The agreement will build on the good work of Jafza and Danube Group to support more workers in Jafza."
Rizwan Sajan, Founder and Chairman of Danube Group said, "We are pleased to sign this agreement with Jafza during the 'Year of Giving' with private and public companies working together to help others. We will promote the training facilities to all workers in Jafza helping them develop their skills through free seminars, workshops and classes as part of the Danube Welfare Center curriculum."
The Danube Welfare Center was set up in 2012 to make contributions to society and to deliver a positive transformation in the lives of workers in Dubai. It is a non-profit social organisation licensed by the UAE's Community Development Authority, offering a range of free training courses to help unskilled workers improve their language skills and further develop their careers. The initiative includes a three-month basic English language programme.