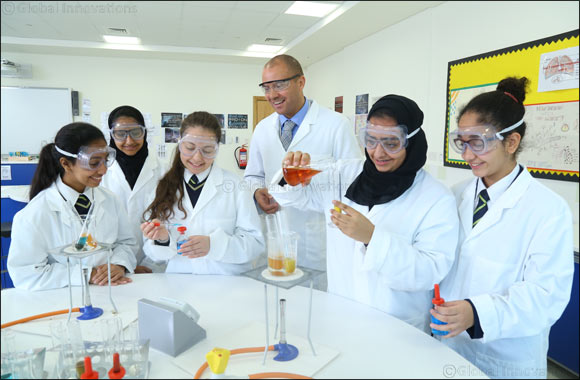 Abu Dhabi, UAE, April 6, 2017: Thought your education had ended? Think again. There's plenty of homework to be done before choosing the right school for your child. The decision between co-ed or single-gender schooling is easy for some, while for others, it raises even more questions – and plenty of myths.
As demand is growing for girls-only education in the UAE, it's important parents know fact from fiction.

To help, we asked Wendy Roderick, Principal of Aldar Academies' Al Mamoura Academy, a leading mixed gender primary and girls-only secondary school in Abu Dhabi, to share three common myths and three truths about girls-only education.

MYTH #1: Girls don't learn how to interact with boys

The idea that girls face a social disadvantage once they leave single-gender schooling because they haven't been educated among boys is simply incorrect. Outside of school girls have fathers, brothers, uncles, cousins and male friends to interact with and learn from, which effectively teaches them how to communicate with men.

Meanwhile, many girls-only schools – including Al Mamoura Academy - employ some male teachers, because gender plays no role in the recruitment decision. We want the best teachers teaching our girls. Stepping into a co-ed university or the workplace therefore doesn't mean meeting an alien species.

MYTH #2: Girls-only education isn't as well-rounded as co-ed

Some believe single-gender education isn't as comprehensive as co-ed. In fact, girls-only students get to play every role at school, free from gender stereotypes and the influence of boys' decisions.

For example, they become the leaders of the Student Council and Heads of Houses, so leadership feels natural once they progress to university and beyond. And, they're more inclined to captain the football team rather than leaning towards netball, because traditional gender roles have been stripped away.

What's more, they have greater freedom to immerse themselves in the STEAM (science, technology, engineering, art and maths) subjects, which are typically favored by boys. According to the UCL Institute of Education in London, women who attended a girls-only school are more likely to pursue a STEAM-related career as a result.

MYTH #3: Girls-only schools are only for certain cultures

Although some base the decision to choose girls-only education on cultural beliefs, single-gender schools are in demand across the world. Take the UAE for example, we're one of the most multicultural countries in the world, yet demand for girls-only education is growing. Meanwhile, some of the longest-established girls-only schools are found outside this region, such as England's Plymouth High School for Girls which opened in 1874 - a school where demand for places outstrips availability.

TRUTH #1: Some girls-only students show more confidence

For many girls, being away from their male counterparts boosts their academic and self-confidence. With less emphasis on gender stereotypes, girls are more confident being themselves. Boys are also known to be more daring in the classroom, which can cause some girls to take a back seat. Without this influence, they're encouraged to be bolder – and this builds confidence which stays with them through life.

A study from the UCLA Graduate School of Education & Information Studies supports this. It found that 81 percent of women graduates from independent single-sex schools rate themselves "above average" or "in the highest 10 percent" for academic ability. This compares to 75 percent of women from co-ed schools.

TRUTH #2: Girls-only curricula are tailored to their interests

From the ground up, girls-only education is built around their interests and way of learning to provide the best possible education. This is why many of the teachers at Al Mamoura Academy went to girls-only schools themselves. Not only are our teachers great role models, they have a deep, personal understanding of how girls learn, and shape their methods and pedagogy accordingly.

The facilities also reflect the broad variety of subjects girls are encouraged to pursue. So, we offer a cutting-edge research laboratory, 3D televisions, CAD software with laser-cutting technology and hardware, graphic design suites, and AstroTurf sports pitches.

TRUTH #3: Girls-only education isn't right for everyone

With all this in mind, it's important to remember that girls-only education isn't right for everyone, just as some students in co-ed schools would perform better in a single-gender environment. Yes, recent GCSE results have shown that single-gender schools outperformed co-ed, but the decision must come down to your child's own personality and approach to learning.

If you are considering a girls-only school, we recommend attending an open day or school tour at both a girls-only and co-ed school before talking to your child about which they prefer. Once on site, you can quiz the Principal and take a close look at the facilities, to make sure your decision is based on fact, not fiction.

Want to learn more about girls-only education? Attend an open event at Aldar Academies Al Mamoura Academy during April, or register for an open event at one of our co-ed academies.