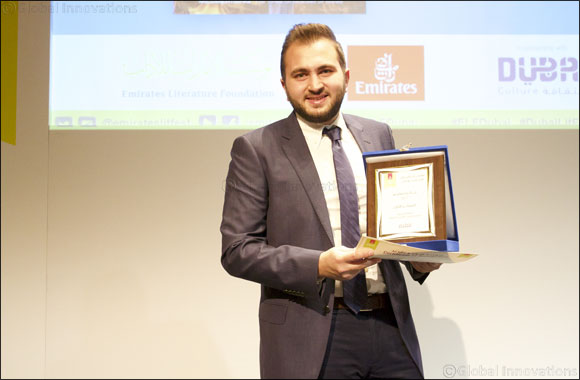 Dubai, April 6, 2017: Canadian University Dubai (CUD) Architecture student, Kazem Aboudan, has taken first place in the 2017 Taaleem Poetry Competition, held alongside the annual Emirates Airline Festival of Literature.
Having already taken top three place in previous editions of the competition, Kazem captivated the judges in this year's contest to take the top spot with his emotive interpretation of the theme 'journeys'.
Kazem's award-winning entry, penned in Arabic with his customary passion and lyricism, told the story of his personal journey to finding love. Impressing a judging panel of esteemed poets – Adel Khozam, Nujoom al-Ghanem, and Shahad Alabdoli – Kazem took the title in the 18–25 year old's category.
Dedicated to preserving traditional language and culture, Kazem has been writing poetry for eight years, and describes his art as a way of liberating his thoughts and feelings. "My poems are a reflection of my experiences in life; all the things I see and feel and do, I express through poetry, and to write it all down gives me a sense of release", he explained.
In the 2015 edition of the competition, Kazem finished as runner-up with his poem on the subject 'Wonderland', by breaking away from the traditional fairy-tale notions of the theme to reflect on the conflict and destruction facing his homeland, Syria.
This year's contest, meanwhile, prompted Kazem to write about a cherished personal experience that defined the essence of the theme. Reflecting on his emotions and sharing his journey to love, he conveyed his intimate thoughts and feelings through the power and rhythm of his words.
Speaking about his success, Kazem said, "Arabic poetry is a unique form of expression and an important part of our culture. It is therefore a great honour for me to be recognized in a competition that helps to preserve and celebrate this art form."