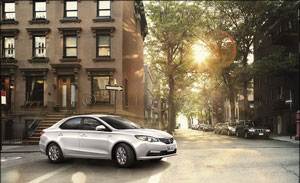 • New car from iconic British brand now on sale at MG distributors across the region
• MG saloon features exquisite design, a range of intelligent technologies and impressive interior flexibility and space
(April 4th 2017, Middle East): Iconic British automotive brand, MG today announced the launch of the new MG 360 in the Middle East, the first region in the world to market the brand's exciting new model. Now on sale across the region, the MG 360 is the newest model from one of the automotive world's most famous names, offering a natural, exquisite design, a range of intelligent features and impressive interior flexibility and space.
The MG 360 embodies the brand's ambitious and exciting new approach, allowing potential customers across the Middle East who might otherwise be unable to envisage owning a new car, to dream big and enjoy the experience of driving a stylish, well-equipped, modern model, with an incredibly competitive price.
The MG 360 proudly sports the brand's new 'silk modelling' design language, offering a distinctive contemporary exterior look that is accentuated by the sleek side lines and ribbed bonnet. This is complemented by sleek crystal LED DRL lamps at the front and rear, side indicators integrated into the door mirrors and sporty 16" alloy wheels, while the stylish look continues inside the classy cabin.
When competing against models like the Nissan Sunny, Kia Rio and Toyota Yaris, the versatile MG 360 certainly isn't lacking when it comes to interior space, with plenty of room for all passengers thanks to its 2660mm wheelbase that is longer than most key competitors. As practical as it is spacious, the new model offers 482 litres of boot space, 40/60 foldable rear seats and up to 23 different storage spaces.
The new model offers fantastic value for money with a long list of class-leading technologies available. Customers can specify a cutting-edge Intelligent Telematics System, a InkaLink Vehicle System that is Android Mobile compatible, an 8" touchscreen and Bluetooth hands-free telephone. Safety features such as a digital speedometer, ABS, EBD, ESP, EBA, overspeed warning and a tyre pressure monitoring system are all available, as are electric power steering, parking sensors, a rear parking camera and cruise control, making it an extremely safe and dependable car.

The new model has been built with a USD (Ultimate Stiffness Design) reinforced body structure with 70% high strength steel. This ensures that Middle East customers can get behind the wheel safe in the knowledge that their MG has been built to the highest standards, as would be expected from a brand with such an illustrious heritage. The model has also undergone reliability testing and received an S Star Rating (C-NCAP) providing customers with additional peace of mind.
The MG 360's 1.5L DVCT engine features advanced technology that means it consumes less fuel than any of its rivals. The new model can travel 100km on just 6.3L, giving it unrivalled fuel efficiency for its class. When it comes to performance, this efficient petrol unit delivers maximum power of 109 hp and 135 Nm of torque at 4,500 rpm.
Dr. Leo Qu Guojun, General Manager of MG Motor Middle East said: "The new MG 360 is an extremely significant car for MG and the Middle East is an equally important market, so it made great sense for us to launch it in this region. With its optimum combination of flexible space, cutting-edge technology and stylish design, all at a competitive price, we are confident that it will not only prove to be a big hit among customers in the region, but will also help to raise awareness of the great quality cars that MG produces."
Founded in the UK in 1924, MG (Morris Garages) was world famous for its cabriolet series, sought after by many celebrities including British Prime Ministers and even the British royal family. Set up in 1930 in Abingdon, UK, the MG Car Club has more than a million loyal fans, making it by far one of the world's largest clubs for a single brand.