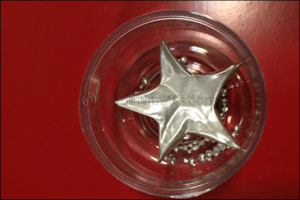 Dubai, UAE - 03 April 2017: Against the backdrop of UAE announcing plans to build the first city on Mars by 2117, a Dubai-based professor aims to play her own part in supporting the nation's ambitions for travel to the Red Planet.
Dr. Franziska Apprich, an Assistant Professor at Canadian University Dubai (CUD), is working with a colleague at New York University Abu Dhabi to create a unique form of chewing gum that will have a whole host of benefits for interplanetary travelers.
Known as UAE Space Gum, the prototype of the new product contains natural gum, silver particles, date paste, honey and vitamin C, all wrapped up in a shimmering star-shaped silver package. It is entirely UAE-produced, and focuses on providing health and nutritional benefits.
Describing the thinking behind the invention, Dr. Apprich explained, "Chewing gum can help to relieve tension, which may be an issue for those taking a voyage into the unknown. It can also help to maintain oral hygiene, which is a practical concern for space travelers."
Revealing the science behind the unique combination of ingredients, Dr. Apprich continued, "The gum is all natural, so that no harmful additives are absorbed into the system. The vitamin C provides support to the immune system in what will be an unknown environment, and the silver is used to treat bacteria in the mouth to prevent gum disease. Honey delivers an energy boost, while the date paste provides flavor, and of course, a tribute to the culture of the UAE."
At last year's Gulfood Innovation Hub, Dr. Apprich pitched her idea for space food – nutritionally balanced, easy to prepare meals used by astronauts – to be brought down to earth, to help solve the nation's growing obesity problem. At this year's Conference, Dr. Apprich met with some of the best UAE suppliers with a view to launching Space Gum in the Emirates.
Having already made a bid to showcase the product at Expo 2020, the next step for Dr. Apprich is to work with UAE ministries and Space Agency to bring this unique product to life.