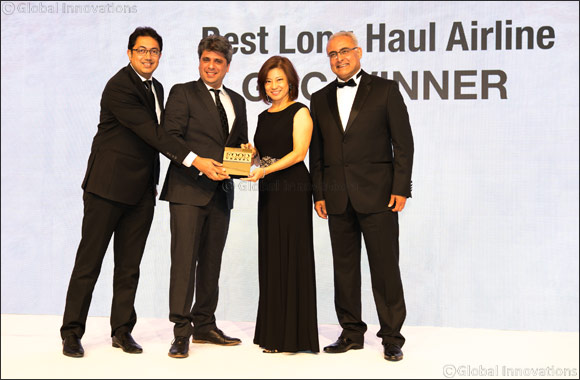 The Hong Kong-based carrier has been named the best Long Haul Airline of the Year at the prestigious GCC Food and Travel Awards 2017
Dubai, UAE, March 29, 2017: Cathay Pacific, which celebrates 40 years of flying to Dubai this year, has gained one of the region's most prestigious accolades after being named the Long Haul Airline of the Year during the GCC Food and Travel Awards 2017.
Flying above other leading international shortlisted carriers, Cathay Pacific received the popular public vote and recognition from the Food and Travel Arabia Magazine's panel of expert judges for continually delivering standout travel experiences and services that go the extra mile during the course of the last 12 months.
Commenting on the win after collecting the award among peers at the Palazzo Versace Dubai, Cathay Pacific Country Manager, Ashish Kapur, said: "It is a great honour to have received this recognition which is a testament to our commitment to delivering world-class services and products. This award is the achievement of our people who work hard to ensure each customer's journey is well travelled and I look forward to celebrating with them."
Cathay Pacific operates two daily flights between Dubai and Hong Kong, a daily service to Bahrain, and an additional daily flight between Dubai and Bahrain, offering onward connection to nearly 200 destinations in Asia, Australia, North America, Africa and Europe.