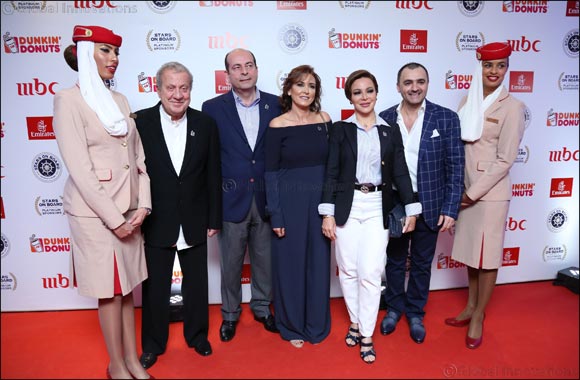 Brand to send lucky winners on star-studded cruise with brand ambassador Superstar Suzan Najm Aldeen
Dubai - March 28, 2017: Continental Food Establishment, the sole franchisee of the famous coffee and baked goods brands, Dunkin' Donuts, in Kuwait, announced Platinum Sponsorship for the 'Stars on Board' Cruise that departs from Barcelona on August 27th and returns its stars and guests to land on September 1st, 2017.
As the Arab world's top celebrities prepare to set sail on the 6th 'Stars on Board' Cruise on a five-star cruise ship, Dunkin' Donuts unveiled its platinum sponsorship along with the world-renowned brand, Emirates Airlines, at a VIP event in Beirut's Phoenicia Hotel. During the launch ceremony, Dunkin' Donuts management in Kuwait was joined by the brand ambassador, and the ambassador of love and peace, Superstar Suzan Najm Aldeen.
"At Dunkin' Donuts, our aim is always to share the most beautiful and enjoyable moments with our customers and fans. We are proud and honoured to join 'Stars on Board' efforts as one of the reputed platinum sponsors, because we believe in spreading positive energy, surprises and optimism in every way. Our visions and values are in line with those of the organizers, hence, it was a rational decision to be part of this magnificent event with all the beloved stars including our own brand ambassador, Superstar Suzan Najm Aldeen. We are looking forward to the cruise and to spend quality time with our customers and fans from all over the globe," said Marwan Salha, CEO of Continental Food Establishment.
Dunkin' Donuts also revealed that it will back up its sponsorship with a campaign titled "Surprises on Board with Love", headed by Superstar Suzan Najm Aldeen. The campaign will include online and offline activities, competitions and collaboration with influencers in Kuwait. Lucky Dunkin' Donuts customers stand a chance to win tickets to the cruise and mingle with the famous singers, actors and other celebrities on board.
"In the world of show business, we as actors and artists are always close to the passions of our fans through the art that we portray on screens and in songs. Now we have the chance to be even closer to them through this amazing event with Dunkin' Donuts and with my fellow stars from all over the Arab world. Dunkin' Donuts and myself will always work to surprise our customers and fans in UAE & Kuwait as well as everyone on board during the cruise," said Superstar Suzan Najm Aldeen at the launch event.
The Stars on Board Cruise is a chance for guests to share a cruise ship with superstars who put on a regular programme of concerts, events and musical evenings throughout the cruise. The event showcases a spectacular itinerary of interactive performances on a special sea incursion.