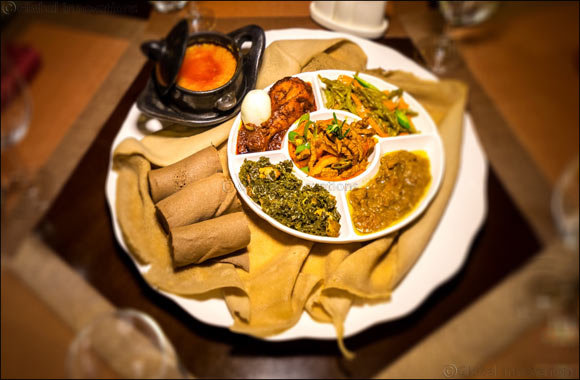 Gursha, an Ethiopian restaurant, brings to the UAE authentic Ethiopian flavors and culinary tradition
Focusing on the traditional way of eating, Gursha means to feed someone morsels of food with one's own hands and sharing a communal experience of eating meals together
Its Ye Getoch Gursha platter (translates to The King's Feast) is meant to be shared for two and provides an opportunity for a full dive into Ethiopian cuisine. Brimming with a wide spectrum of both Vegetarian and meat dishes ranging from chickpea gravy to beef tartar and served on Injera (a sourdough flat Ethiopian bread similar to a crêpe made from a gluten free grain called Teff), it is the best way to take a journey around the menu with a loved one and share a Gursha.
Located at Dubai's popular Club Vista Mare with a beachfront, Gursha also offers shisha, free Wi-Fi, indoor and outdoor seating facility in Palm Jumeirah
Dubai, United Arab Emirates, March 27, 2017: Gursha, an Ethiopian family- friendly restaurant located in Palm Jumeirah brings to the UAE authentic flavors of Ethiopia. Focusing on the traditional way of eating, the restaurant offers a communal ambience of dining together and sharing a meal with a group.
One of the highlights on the menu is Ye Getoch Gursha Platter that is also known as the King's Feast, which comes fully packed with pretty much all the main dishes on the menu including appetizers. Portioned for a serving of two, one could enjoy spicy lentils and curries like Misir or Doro Wat, Fitfit bread like Shiro soaked in sunflower juice or Suf soaked in chickpea powder juice and meat or beef like Kitfo along with freshly cut lush green vegetable salad on the side. The aromatic combination is served in a large plate with a variety of traditional dishes made with tantalizing spices giving it the raw texture and tempting aroma.
The platter is accompanied by Injera, a gluten free sourdough bread with a soft and spongy texture known to be one of the staple food items in Africa. The Injera is placed at the bottom of the plate with vegetables and meat on it. All the dishes at Gursha are relished with the Injera on the side that is made from teff flour. Gursha also offers many other delectable dishes like BuTicha - a chickpea dip with lemon juice, Tibs - grilled beef sautéed in aromatic spices that one can devour with some house beverages making it perfect for a full-fledged Ethiopian dining experience.
Commenting on the King's Feast platter, Mr. Beide Worku, Executive Chef said, "We are very pleased to introduce Gursha to the UAE, making Ethiopian Culinary culture accessible to the masses. Focusing on its origin, Gursha promotes a more traditional way of enjoying a meal that encourages people to sit together and get communal. We are positive that the UAE, hosting residents and expats alike from different nations, will be receptive towards what Gursha has to offer. The King's Feast is one of our signature dishes and we are hopeful it will help showcase the tastes of Ethiopia here in the region. We also have other platters for different tastes still centred around the spirit of sharing"
The Ye Getoch platter also known as the King's Feast is Gursha's signature dish, priced at AED 275.