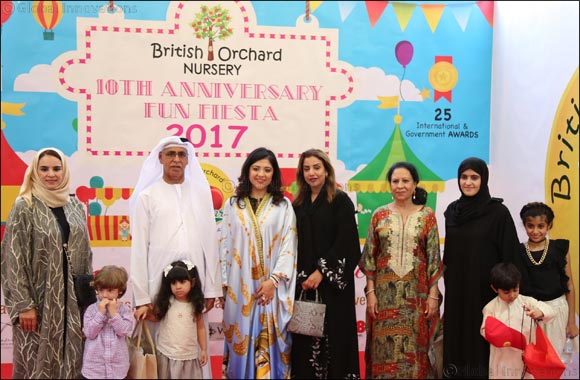 The pre-school marks 10 years with its BON Family and others at the British Orchard Nursery Fun Fair
March 20, 2017; Dubai, UAE: Hundreds of people thronged to the British Orchard Nursery Fun Fair this weekend to indulge in some exciting and festive activities catered to all age groups. Visitors, particularly youngsters, had a gala time at the fair which offered a wide variety of amusements to suit every one's interest. From making memories at Costume Photo Booth to letting off steam in Bouncy Castle, to participating in stage dramas, art competitions, baking contests, gym and Zumba sessions, the atmosphere buzzed with activity and fun. International food remained the favourite highlight as visitors took delight in indulging their taste buds to delectable fare from different corners of the world. The event, held at the Nursery's Bur Dubai premises, was part of the Nursery's 10-year anniversary celebrations.
Staff awards were also presented on the occasion by the guests of honour, Mr Rashed Al Bakhit, Former Immigration Head; Ms Shamma Al Tayer from Dubai Electricity and Water Authority (DEWA); Ms Sameera Afaana from Dubai Municipality, and Ms Fatima Abdul Qader from Dubai Quality Group. To give the celebrations a more tangible feel and to share the happiness with others, the Nursery also made a private contribution to Al Noor Training Centre and Al Jalila Foundation.
"We wanted to share this happy moment with our friends at Al Noor Training Centre and Al Jalila Foundation, in the hope to bring smiles and contribute to the bigger cause in our own small way. At British Orchard Nursery, we take our corporate social responsibility very seriously and the organisation contributes a percentage of its total revenue to the British Orchard Nursery Foundation, which supports underprivileged children, families, and the elderly. Besides this, we regularly participate in awareness programs in the UAE and globally," said Ms Vandana Gandhi, CEO and Founder of British Orchard Nursery said.
Open to everyone, the Family Fun Fair provided a platform for families – particularly BON parents and teachers across all 17 branches in the UAE – to experience some wholehearted fun. While animal lovers made their way to meet and greet their furry friends at petting zoo, book worms made a beeline for quiet story sessions. For little ones, the enthralling magic show held a special attraction, besides pony rides that caught everyone's fancy. Dance shows and performances, face painting and intricate henna painting kept visitors happily occupied too. Complimentary medical check-ups were also available for visitors to take stock of their health.
Commenting on the milestone, Ms Gandhi added: "The journey has been extremely rewarding and a learning experience for us. During this decade, the BON Family has grown to include thousands of people, and we have full confidence that the institution has left a positive mark on every child who has been with us. We also believe in working hand-in-hand with parents to provide a safe, friendly and secure environment to our children and have successfully included parental intervention in many of our programmes. Moreover, we are also the first nursery in the UAE to introduce an indoor gym programme – GymJuniorz – which we believe will help children remain physically fit".
The Nursery has also initiated KHDA-approved Early Years Teacher Training programme to better equip teachers at the nursery level and to further uplift preschool education in the UAE
Ms Gandhi further said: "British Orchard Nursery has been at the forefront of introducing various innovative learning programmes in the pre-school educational realm of the UAE. As an acknowledgement of our efforts, we have been awarded more than 25 prestigious national and international awards including the Sheikh Khalifa Excellence Award and the Mohammed Bin Rashid Al Maktoum Award. In this regard, I'd like to thank every single person who has contributed to towards making this venture a success".
Starting with its flagship branch in Bur Dubai, British Orchard Nursery has expanded to 17 branches across the UAE within a span of a decade. The largest chain of pre-school in the UAE, the Nursery has been an active leader of Early Years Education, providing a holistic learning environment for children to develop their physical as well as mental growth through various innovative programmes.