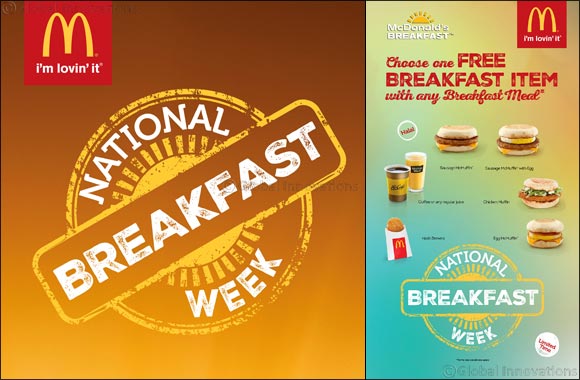 Week-long celebration of most important meal of the day to run from 14th – 20th March with freebies up for grabs for early risers
Dubai, 13th March, 2017: Famous for being the most important meal of the day, McDonald's UAE will be celebrating the brilliance of breakfast by making its most popular breakfast items available around the clock for a full week, starting tomorrow.
Running from 14th – 20th March 2017, National Breakfast Week is the first time breakfast enthusiasts in the UAE have the extended opportunity to enjoy iconic McMuffins throughout the day...and night.
Usually only served between 5am – 11am, McDonald's breakfast items including Egg McMuffins, Chicken Muffins and Hotcakes have become firm favourites. Every day in the UAE alone, more than 8,000 Breakfast Meals are enjoyed around the country.
Walid Fakih, General Manager at McDonald's UAE said, "With increasingly busy, fast paced and mobile lifestyles, people are looking for greater flexibility, convenience and the opportunity to enjoy delicious food on their own terms. Many of our customers love McDonald's breakfasts but often miss out as they rush to go to work, drop off their children to school or even try to fit in a workout in the morning."
"National Breakfast Week is an opportunity to elevate the humble breakfast to centre stage and give our customers the chance to enjoy selected items at any time of the day, regardless of their schedule."
For 'early birds hoping to catch the worm', McDonald's UAE will also be marking the special occasion with breakfast based rewards. For meals purchased during regular breakfast serving hours, customers will be treated to selected complimentary breakfast items via a coupon redeemable between 5am – 11am during the special week.
For the late risers, a number of attractive promotional bundle offers pairing selected breakfast menu favourites with fresh coffee for only AED 10, will be available throughout the day and week.