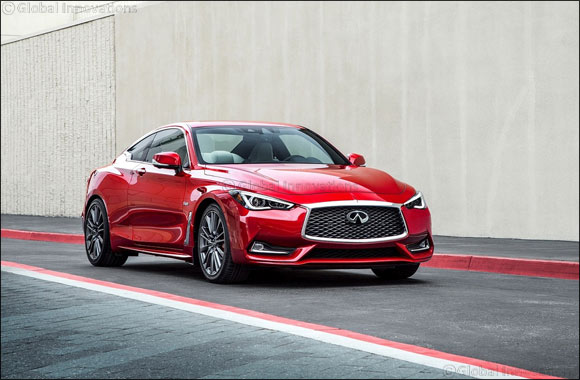 Premium 3.0T and 2.0T variant now available across INFINITI of Arabian Automobiles Centers
Dubai, UAE, March 12, 2017: Arabian Automobiles Company, the flagship company of AW Rostamani Group and the exclusive dealer for INFINITI in Dubai, Sharjah and the Northern Emirates, has introduced the highly anticipated and all-new Q60 Red Sport 400 Coupe, announcing the availability of the premium 3.0T and 2.0T variant across INFINITI of Arabian Automobiles Centers.
Mr. Salah Yamout, Director of Sales & Marketing at Arabian Automobiles Company, commented: "The introduction of the Q60 Red Sport 400 Coupe represents an important step in Arabian Automobiles Company's pursuit of innovation and style, thanks to its state-of-the-art features, daring curves and powerful stance. We plan to grow market share and lead the industry, while also fulfilling our commitment to providing our customers with an outstanding range of all-new performance oriented models. The Q60 Red Sport 400 Coupe is a marvel, and we are confident that its captivating design and remarkable power will leave our customers as excited as we are about this new addition to our range."
The top of the line 3.0T Q60 is equipped with the exhilarating performance of a twin-turbocharged 400 Horsepower V6 engine and the unmatched responsiveness of the world's first digitally adaptive handling system, while the 2.0T Q60 variant offers a four-cylinder gasoline engine that is turbocharged to produce 208 HP. Both variants possess expressive design, unmatched performance and powerful dynamics that redefine the sports coupe, including technological innovations such as Intelligent Cruise Control that automatically adjusts speed to respond to traffic, and Direct Adaptive Steering that constantly fine-tunes steering performance with up to 1,000 adjustments a second. Combined with Dynamic Digital Suspension, the Q60's powerful stance promises a compelling ride that puts drivers at one with the road.
These innovative features are combined with INFINITI's full suite of driver assistance and safety technologies, for ultimate driver confidence and ease. Forward Emergency Braking with Pedestrians Detection helps to reduce the potential for collisions by providing warnings of approaching vehicles or large stationary objects and applying the brakes, while Adaptive Lighting Systems heightens the driver's awareness by allowing them to not just see ahead, but all around the vehicle.
For a thrilling glimpse into the Q60 Red Sport 400 Coupe's ground-breaking features and sensational power, customers are encouraged to visit their nearest INFINITI Center as early as possible or call 800-Infiniti for more information to book a test drive that will deliver a premium motoring experience and serve as a testament to its global acclaim.