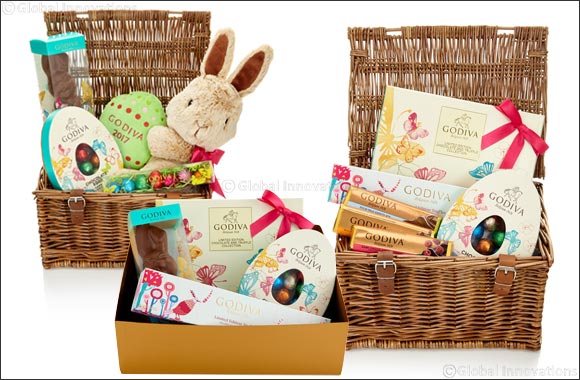 Dubai, UAE, March 9, 2017: Godiva is proud to announce the launch of its stylish limited edition Spring Collection. Beautifully capturing the spirit of rejuvenation, joy and celebration associated with the season, the whimsical Spring Collection is the perfect gift for Easter and Mother's Day.
Curated with passion and precision by Godiva's team of creative and culinary experts, the Spring Collection features iconic Godiva pieces as well as fun chocolate novelties and keepsakes. And as a nod to the uplifting spirit of the spring season, the collection's packaging is decorated with beautiful watercolour butterflies.
Charming 'chocolate chicks' are a festive addition to the Spring Collection and are available in flavours including: white chocolate with a hazelnut praline ganache (Poussin Blanc Praline Croustillant), milk chocolate orange ganache (Poussin Lait Orange) and dark chocolate banana caramel (Poussin Banane Caramel). Godiva's popular chocolate 'pops' are also back and are available in delicious flavours such as strawberry ganache, speculoos mousse and raspberry cream.
The collection's butterfly packaging was dreamed up by Tokyo-based illustrator, Chico Hayasaki. Decorated with delicate butterflies in pretty pastel tones, Chico's design signals the joy and rebirth of spring like no other.
Other wonderful springtime gifts from Godiva this year include its signature gold gift boxes, complete with handtied red ribbons as well as an assortment of eggs, chocolate novelties, plush bunnies and keepsakes.
With gift boxes available in sizes perfect for both gifting and sharing, Godiva's Spring Collection will ensure you have the sweetest Easter ever.