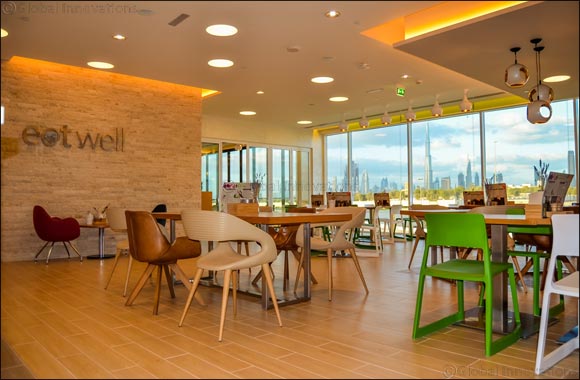 Healthy lifestyle leads to growth of healthy eating
Dubai, United Arab Emirates; 6th March 2017: Dubai Herbal and Treatment Centre (DHTC) has launched a new food and beverage concept named Eat well, the first science-based nutrition and sustainable eatery in Dubai with gluten and sugar free dishes. It prides itself in recognition of its nutritious, environmentally sustainable operation and menu.
Eat well is a health-conscious and Wellness Chef inspired concept with a culinary nutritionist menu catering to all pallets, from vegetables, legumes, meat and fish. It also offers a largely based paleo, vegetarian and vegan food options. Eat well follows a sustainable purchasing program whenever possible by sourcing fresh from local farms, seasonal and organic.
Wellness Chef Patrick Ikinofo said "We aim to provide a universal, trusted standard for healthy and sustainable dining to DHTC patients and the public. Our focus is better-for-you meals aligned with Health through Food philosophy. The instant success is proof of the increasing demand of consumers for meal options that are both healthy and environmentally sustainable and we look forward to this growth."
Located on the first floor of DHTC, customers can experience a sumptuous kitchen with nutrient-dense breakfast, lunch or dinner. The culinary team keeps things minimally-processed with house-made soups, dressings and desserts.
Eat well supports the philosophy of DHTC 'healthy is subjective' that depends entirely on your particular circumstances, nature and goals. For years the Centre has been treating their clients with a personalized combination of alternative and allopathic treatments. Adding Eat well to their philosophy extends their commitment to wellbeing through bespoke meal plans, cooking classes, dining experience, hand in hand packages and wellness focussed events.
Health and productivity are inextricably linked, and offering an integrated wellness program with healthy and delicious food both helps live healthier lives and lower health related problems," said Wellness Chef Patrick and we are proud to have so many of our customers join in this effort to promote healthier eating through Eat well - where healthy meets delicious."
Eat well timings at DHTC:
Sunday – Thursday 8:00 am – 8:00 pm
Friday and Saturday 9:00 am – 6:00 pm