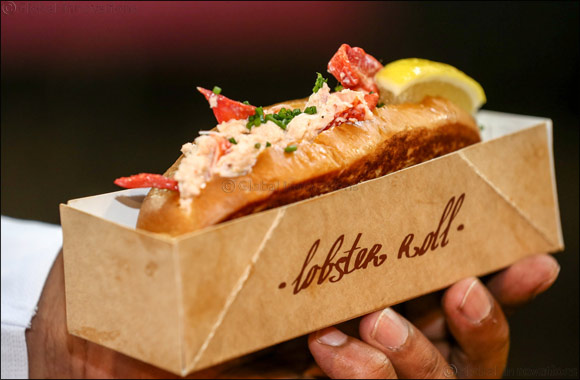 Dubai, 4th March, 2017: During its 21st season, Global Village, the region's leading multicultural festival park, has brought in the global street food trend to its destination and is now offering its guests a unique international street food experience.
Global Village's Kiosk Street has become a go-to hub for local and international foodies. From Mediterranean to East Asian, Global Village Kiosk Street is hosting 30 food outlets representing more than 30 of the most popular international cuisines.
Raclette DXB:
Taking authenticity to a new level, Raclette DXB serves their namesake traditional Swiss cheese-dish in its true form. The raclette cheese is scraped off onto a bed of boiled baby potatoes, rocket leaves and gherkins, topped with a dash of salt and pepper; the dish is nothing short of authenticity and perfection. Not only does the kiosk serve the dish in its authentic form, but it also imports the wheels of Cheese from Switzerland itself.
"We're definitely big cheese fans ourselves, and we were surprised to find the shortage of raclette cheese in Dubai" said Rawad Akkawi, who runs the kiosk. "This is more of a passion than it is anything else, seeing that many people come to our stall and they haven't heard of the dish before, we want to promote this fantastic dish. Our customers just love the way it's prepared, and once they try it, they fall in love with the taste."
Spheerz:
Serving a dish called Takoyaki that originated from Osaka, also known as the 'nation's kitchen' of Japan, Spheerz is selling this a ball-shaped, street-food snack filled with either the original octopus filling, chicken or shrimp. It's made of wheat-flour based batter and cooked in a special molded pan.
"I visited Osaka for the first time two years ago, and while exploring their street food, I tried Takoyaki and thought it was absolutely delicious, which is why I decided to bring it to the UAE. After thousands of tastings, we've finally come up with the perfect recipe, and Global Village was the perfect place to kick-start Spheerz. I used to visit Global Village specifically to try out different foods from all over the world – there is no place as diverse." said Ahmed Tahnoon, founder of Spheerz.
Affogato Café:
This desert kiosk is definitely the go-to stall for all caffeine enthusiasts. Offering the perfect dessert and coffee combo, the stall serves the Italian Affogato coffee, a scoop of vanilla ice-cream which is topped with a shot of espresso. For those who feel adventurous, they can add different flavors such as vanilla or caramel.
As for the caffeine-free guests, they can enjoy desserts and beverages such as Belgian waffles, ice-cream sundaes, smoothies and milkshakes.
Lobster Roll:
Lobster rolls have grown extremely popular in the world of street food, being originated in America and very popular in Boston. Served in low-fat loaf bread, and stuffed with cooked lobster, chopped onions, Japanese mayo, lemon, chives, and celery, topped with garlic butter, the lobster roll is a must-try at Global Village.
"The popularity of lobster rolls has been on the rise for quite some time, yet in Dubai usually you only get them in restaurants which takes away from the experience of enjoying the dish. I love coming to Global Village because you get the full street-food experience and you can't get it anywhere better." said Clement Dean, a visitor to the kiosk.
Burek Sarajevo:
Introduced during the Ottoman times, Burek in Bosnia is a meal that's eaten any time of the day. Made with think flaky dough, rolled in a spiral and then cut into sections for serving, the burek is both a savory and sweet dish.
Whether you opt for a cheese and spinach filling, known as zeljanica, or a sweeter caramelized apple filling, this home baked dish brings guests the flavours of Bosnia and expands Global Village's international street-food variety.
Global Village's Kiosk Street is located between the Lebanon and Bahrain pavilions.
Global Village's opening hours are from 4pm to 12am Saturday to Wednesday and from 4pm to 1am on Thursdays and Fridays in addition to public holidays. Mondays at Global Village are family and 'ladies only' days.