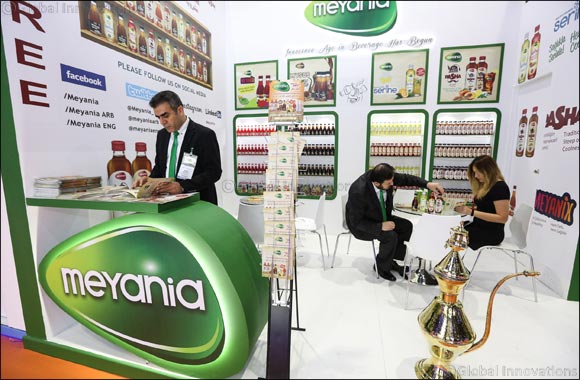 Tech breakthrough sees natural herbal beverages muscle in on conventional soft drinks
Dubai, UAE, February 28, 2017: Five years of investment in hi-tech R&D came to fruition for Turkey's Meyania drinks at Gulfood 2017, the world's largest annual food event running at Dubai World Trade Centre (DWTC) until Thursday night.
The company's ground-breaking 100 per cent natural and sugar-free liquorice-based drinks – the first of their kind – scooped the show's inaugural 'Visitors' Choice' award with its Mysus range that reigned victorious through its popularity on Facebook and Instagram , garnering high digital engagement. The Mysus range emerged from a shortlist of five products being showcased amongst a range of standout innovations also being displayed on Gulfood's new Virtual Supermarket feature.
It was a major triumph for a company that chose Gulfood for the launch of their unique product range. Meyania believes their liquorice formulation will represent serious competition in the traditional soft drinks sector, as consumers increasingly seek out sugar-free alternatives.
"People are tired of sugar, calories and of being cheated," said Meyania's General Manager, Metin Recepoglu.
Made using new technology in co-operation with the Technology Institute of Turkey, the range extends the traditionally low shelf life of other liquorice drinks that were popular throughout ancient Mesopotamia and that were believed to have fortified the armies of Alexander The Great. "Our range has a shelf-life of nine-to-eleven months ahead of other soft drinks," added Recepoglu.
The top secret breakthrough technology sees the totally organic Meyania range ready to reap the rewards as the Middle East prepares to celebrate Ramadan, when traditional liquorice drinks - renowned for their healing abilities - are in their highest demand.
"The drinks have an incredibly low calorie count, the lowest on the market, and the slightly bitter taste of liquorice is offset by using stevia, a natural sweetener," said Recepoglu.
Meyania, which also produces the liquorice and stevia Serine fruit juice range, the world's first lemonade made with liquorice, and a sugarless liquorice drink for kids, says it has received "a terrific response" at Gulfood where it is seeking distribution partners for the new range.
"It's a success story which has quickly gained huge exposure in a show which abounds with innovation. To emerge from such strong competition is something of a coup for a product which has just entered the international market," said Mark Napier, Show Director.