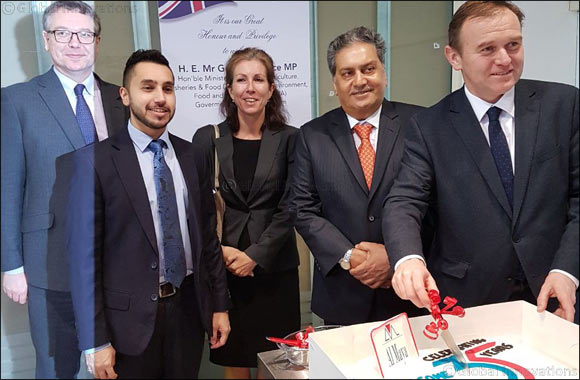 Dubai, UAE, February 27, 2017: Hon'ble Mr George Eustice MP, Minister for Farming, Food and Marine Environment, Government of United Kingdom, visited Al Maya Supermarket, Dubai, informed Mr Kamal Vachani, Group Director, Al Maya Group. This is the first time British Minister visiting any Supermarket in Dubai, informed Mr Kamal Vachani. The Minister is here on the occasion of Gulfood 2017.
During the interaction with the Hon.ble Minister, Mr Kamal Vachani introduced Al Maya Group and its activities. Mr Kamal Vachani informed the Hon'ble Minister Mr George Eustice about the variety of products available from the UK at the Al Maya Supermarkets.
Al Maya Group imports a large varieties of FMCG goods include Dairy, Chocolates, Snacks, Pastas, Condiments, Sauces & Spreads, Cereals, Puree, Organic and Glutan Free Health Foods, etc. from the UK, Mr. Kamal Vachani informed the Minister.
Al Maya Group is keen to expand its products portfolio from the UK, Mr. Kamal Vachani told the Minister.
Al Maya Group has completed 35 years of operation in the Middle East has become one of the largest FMCG Distribution companies and has a sizeable share of the UAE retail market, within which it operates over 45 Supermarkets / Hypermarket and continue to expand further in the GCC. Al Maya Group also one of the leading FMCG distribution company in the UAE.
Al Maya Group are exhibiting in Gulfood 2017, the Region's Premier Food and Beverage show – in C6-20, Hall 6, added Mr Kamal Vachani.