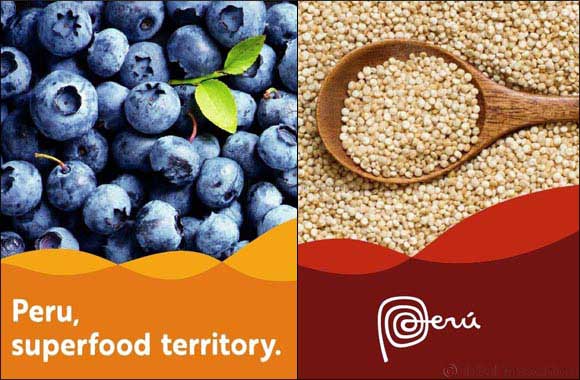 New campaign celebrates Peru's distinction as world's top producer of superfoods
26 February, 2017, UAE: Peru reinforces its superfood credentials during Gulfood 2017 with the launch of its "Superfoods Peru" brand. The comprehensive global campaign celebrates Peru's status as the world's top producer of superfoods and highlights the quality, variety and benefits of the country's food offering.
One of the most biodiverse nations on earth, Peru has a variety of agricultural produce that is synonymous with healthy living. Packed with vitamins, minerals, antioxidants, and other essential nutrients, these superfoods include quinoa, golden berries, chia seeds, maca root, sacha inchi, purple corn, camu camu, lucuma, asparagus, and blueberries, among many others.
"With today's consumers seeking healthier choices and new culinary experiences, we see strong export potential for Peruvian produce. The global 'Superfoods Peru' promotion strategy is a response to this worldwide trend. Our government anticipates export volumes for superfoods will triple to US$15 billion in the medium term as a result of the campaign. We also expect to see up to 15% annual growth in cropland dedicated to superfoods," said Alvaro Silva-Santisteban F., Director of the Ministry of Foreign Trade and Tourism of Peru, through its representation based in the UAE.
According to industry analysts Technavio, the global naturally healthy foods market is forecast to grow at a CAGR of more than 6% from 2016-2020. The rising awareness of the benefits of health and wellness products has led to increased demand for naturally healthy foods among consumers.
The trend is reflected in Peru's agricultural exports to the UAE, which in 2016 increased by 52% over the previous year. Among the top agricultural exports were grapes, pomegranates, avocados, asparagus, jalapeños, blueberries, mangoes, organic bananas, quinoa, chia seeds, pulses and corn.
"Fresh fruit and vegetables are among Peru's top exports to the GCC and we predict these will increase further as more health-conscious consumers change the way they eat, shop and dine. Last year Peruvian businesses closed deals worth US$15 million as a result of their participation in Gulfood. We are optimistic that our status as the best leading culinary destination for five consecutive years, coupled by growing awareness of Peru as the world's super pantry, will seal even more transactions at Gulfood this year," said Silva-Santisteban F.
Peru's geographical location and diversity of climates enables it to supply fresh produce year-round and support counter-cyclical import demand. Today, Peru is the world's top producer of fishmeal, fish oil, fresh asparagus, quinoa and paprika; and the world's second largest producer of avocados, artichokes, organic bananas and organic cacao. It produces the greatest varieties of corn, potatoes and chilies in hundreds of colors and flavors. Peru also ranks first in the world for biodiversity of fishes and it is among the top ten exporters of maca, mangoes and processed asparagus.
"Peru has 82 out of the 111 climates in the world so we have excellent growing conditions. Our producers can grow almost anything and they enjoy high yields across a range of agricultural products. With their progressive use of technology and innovative production and processing methods, Peru's producers are considered some of the strongest and most reliable trade partners in the world," added Silva-Santisteban F.
Also contributing to the growth in Peruvian agricultural exports are emerging specialty and niche products. Supplied in fresh, dried, frozen or processed and semi-processed formats, they are perfectly suited to the foodservice, ingredient and manufacturing sectors.
Peruvian companies will present these products and more at the Peru Pavilion during Gulfood 2017. In addition to product showcases, a Dubai-based Peruvian chef will serve up delicious classic dishes such as ceviche, tiradito, causa and quinoa risotto.
Visit Peru at Gulfood 2017 from 26 February to 2nd Mach at Dubai International Convention & Exhibition Centre in Saeed Halls, Trade Center Arena, Booth K4/L3.