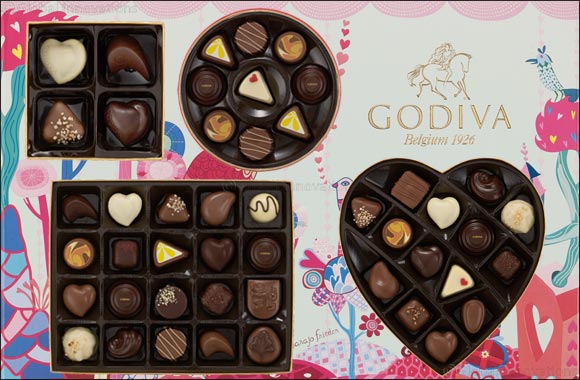 The seductive new chocolate collection inspired by some of the world's best-loved cake recipes
Limited Edition
Godiva is proud to announce the launch of its limited edition Buffet de Gâteaux Valentine's Day Collection. Indulgent, sensual and made for sharing, the innovative new chocolate collection was inspired by some of the best-loved cake recipes from around the world.
Crafted with passion and precision by Godiva's Tokyo-based chef chocolatier, Yannick Chevolleau, Buffet de Gâteaux was created in homage to the glamorous tradition of high-tea. Hosted by luxury hotels around the world, high tea is served with a selection of dainty cakes and pastries, and is considered by many as the epitome of sophistication and indulgence.
Another example of the innovative spirit at the heart of Godiva, the collection gives an exciting new twist to much-adored recipes. Explains Chef Yannick : "By taking classic recipes that originated in cities like Tokyo, Paris and New York, and reimagining them through chocolate, we have created a collection that is both nostalgic and avant-garde".
Comforting, indulgent and moreish, the chocolates are available in Lemon Cheesecake, Crème Brulee, Sachertorte, Strawberry Shortcake, Matcha Chiffon and Paris Brest flavors. Each piece is filled with either a sumptuous ganache or a classic praliné and is encased in premium Belgian milk, dark, or white chocolate. So delectable and seductive are the five cake-inspired chocolates, that it will surely be love at first bite.
Buffet de Gâteaux's striking packaging was designed by the American artist, Sarajo Friden. Based in Los Angeles, Friden's work is influenced by the diverse communities of the California Pacific Rim where she grew up. Decorated with a love-inspired tableau in Friden's trademark whimsical style, the beautiful packaging has brought the look of love to the collection.
Chocolate Pieces
Strawberry Shortcake
Divine white chocolate and strawberry ganache shortcake is paired with deliciously creamy strawberry velouté and enrobed in a premium white chocolate shell. Chef Yannick explains: "the sourness of the strawberry balances the sweetness of the white chocolate beautifully". Shaped like a little slice of cake, the piece is decorated with a delicate red heart.
Sachertorte
Shaped as an elegant conical pyramid, the piece boasts a duel filling of an intense dark chocolate ganache and a light chocolate velouté, which is generously covered in a dark chocolate shell. Chef Yannick describes the pieces as "powerful, unique and memorable".
Lemon Cheesecake
A rich New York lemon cheesecake ganache is finished with a hint of lemon peel and salt and covered in sumptuous Godiva milk chocolate: "this cake-shaped piece is a little slice of New York", says Chef Yannick.
Paris Brest
A Madagascan dark chocolate & almond praline is blended with white chocolate & almond praline, infused with a touch of crunchy caramelized almonds and then covered with creamy milk chocolate. Chef Yannick describes the piece as "a thrilling journey through layers of taste and texture".
Crème Brûlée
A caramel crème brûlée ganache is complemented by a rich crème ganache, which is infused with Madagascan vanilla, and smothered in Godiva's premium milk chocolate: "This iconic dessert was a pleasure to translate into chocolate", says Chef Yannick.
Matcha Chiffon Cake
White chocolate ganache is infused with premium Japanese green tea and encased in an intense dark chocolate. Shaped as a striking conical pyramid, the piece is finished with a decorative flourish on its outer-shell. Tokyo-based Chef Yannick describes the piece, which is inspired by a popular Japanese dessert, as: "very light and smooth; intense, well balanced and not too sweet – a joy to devour".