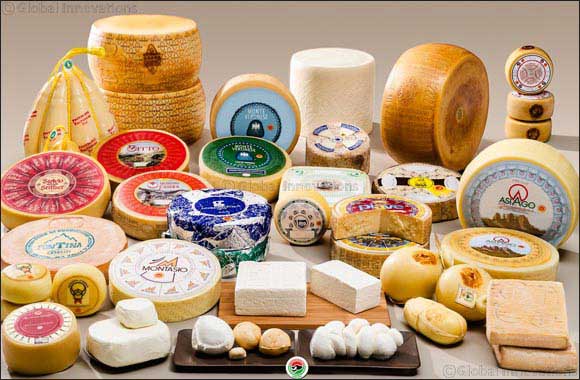 AFIDOP will highlight strength, heritage, quality and diversity of Italy's leading cheeses for the fifth year amongst leading Gulf F&B suppliers, retailers and restaurants
Dubai, UAE, February 23, 2017: From February 26 - March 2, the Associazione Formaggi Italiani DOP e IGP (Association of Italian P.D.O Cheeses), better known as AFIDOP, returns to Gulfood 2017 to showcase seven of the finest Italian Protected Designation of Origin (P.D.O) cheeses.
With a space in the Italian pavilion, AFIDOP will present Casciotta D'Urbino, Gorgonzola, Grana Padano, Parmigiano Reggiano, Mozzarella di Bufala Campana, Pecorino Romano, and Pecorino Toscano with live cooking demonstrations and a blind tasting session over the course of the exhibition.
Gulfood is the world's largest annual food and hospitality event serving one of the fastest growing sectors on the planet. AFIDOP encompasses 25 regional Italian accreditations, to create the main consortia dedicated to the protection of Italian P.D.O cheeses. The organisation promotes and protects cheeses originating from different geographic regions made in a typical all natural process across Italy under E.U. law. Currently, there are 49 P.D.O cheeses produced in Italy.
AFIDOP will offer live interactive cooking demonstrations which incorporate the seven selected Gulfood cheeses, educational seminars, and a blind tasting competition, complemented by tastings at the stand. Chef Marco Cennamo, Sous Chef at BiCE Ristorante at Hilton Jumeirah Beach Residence (JBR) will collaborate with AFIDOP to host cooking demonstrations on 27th and 28th February, showcasing how to use these unique cheeses in popular dishes in the country.
"Italian P.D.O cheeses are deeply rooted in history and in everyday life of our country. With the rise of healthy eating trends and the desire to consume premium quality products, along with the UAE's love for authentic Italian food, our cheeses, given their P.D.O status are perfect to meet those needs," says Nicola Baldrighi, the President of AFIDOP and one of the cheeses on display, Grana Padano. "The main aim of the event is to present the high quality of the Italian P.D.O cheeses - their uniqueness and high standards - and to highlight production techniques as well as how to use them within the Arabic market," he adds.
Commenting on BiCE's collaboration with AFIDOP, Chef Marco says, "The Italian P.D.O cheeses have historic ties, which connect each product to a specific production zone. They are intrinsically connected to the region in which they were created; and it's a privilege to educate and familiarise the residents and F&B suppliers of UAE to this rich Italian tradition."
Highlighting real time use of the cheeses, Chef Marco will prepare dishes in front of a live audience over two days of Gulfood. He, along with the AFIDOP representatives, will talk guests through the preparation and cooking process whilst also offering tips on working with the seven cheeses. A taste of each dish will be presented upon completion.
The 2017 edition of Gulfood will take place at Dubai World Trade Centre from February 26 - March 2. AFIDOP can be found at stands b2-34 and C2-33 in Hall 2. Gulfood is open from 11am to 7pm daily, and until 5pm on the final day.