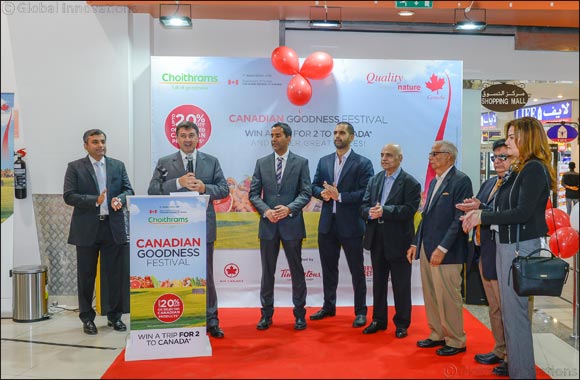 The UAE retail chain takes you on a tasty culinary journey across its stores in Dubai
Dubai – UAE: 22 February, 2017: UAE retail store chain Choithrams today announced the launch of a Canadian Goodness Festival in Dubai. This is an integral part of the retail giant's strategic business plans. Known to be one of the most popular chains of stores in the country, the festival will offer a treat to taste buds to one and all. Starting from 22 February to 6 March, customers will be able to enjoy as many as 150 products on offer all across all the stores in Dubai.
Emmanuel Kamarianakis, Consul General at Consulate General of Canada to Dubai and the Northern Emirates, inaugurated the festival at the Choithrams store located in Green Community, Dubai.
LT Pagarani, Chairman, Choithrams, said: "Our focus has always been towards offering unique and exciting concepts and promotions across our stores in the UAE. Keeping in mind the consumer's needs and demands, our constant endeavour has been to stay abreast with trends and we continue to provide them with a modern approach to shopping. Through this association, we are going to get our loyal customers the best deals in town and show our heartfelt appreciation for the immense trust they have in us."
He added, "This partnership with the Canadian Consulate will help us not just boost our business relations but also evoke our customers' faith in their range of food products. Our dealing with Canada started with Premium Canola Oil (Heart Light Brand) around 20 years ago." Choithrams has been since selling a variety of Canadian products.
"We are happy to share that Canadian food products have always excited our customers," said Pagarani. "The Goodness Festival is an opportunity for us at Choithrams to celebrate prosperity and 'goodness' with our consumers and the people of the UAE. Currently, we are importing 5 SKUs of Heart Light Premium Canola Oil but with this promotion, we will be import around 75-100 new SKUs. Over and above, we will have around 30-40 SKUs from local suppliers. With oil, we are importing approximately 50 x 40' FCL's and now with this new business of assorted 75-100 products, we will have additional volume."
Inaugurating the two-week long Canadian Goodness Festival across the Choithrams stores in the UAE, Emmanuel Kamarianakis, Consul General at Consulate General of Canada to Dubai and the Northern Emirates, said, "We are happy to be partnering with Choithrams on the Canadian Goodness Festival, as part of our celebration of Canada's 150th anniversary. Canada is world-renowned for the quality of our agriculture products, which stems from our clean natural environment, vast land and sea resources; and world class food production and food safety systems. Our partnership with Choithrams is a wonderful opportunity to offer some of our high-quality products to UAE consumers."
With approximately 150 Canadian products being promoted, Choithrams will offer its customers a huge variety of food items in stalls within the participating outlets.
On the occasion, Subhash Kurup, Corporate Marketing Manager, Choithrams, added, "The UAE is a melting pot of cultures so our customers have a multitude of expectations. To meet their forever-changing requirements, we work hard on making it a fantastic shopping experience for them. At Choithrams, we are committed to give them the best deals and bargains on a wide range of products. Through the Canadian Goodness Festival, we hope to further enrich their shopping experience.'
One can avail of special discounts of up to 20% on a variety of meat and poultry items and other products including pickles, spices, sauces, confectionary, chips, soda, juices, cereals, seeds and nuts. An advertising campaign will take place at three radio stations of the Arabian Radio Network to encourage listeners to visit the stores and buy Canadian products. On-air contests will offer instant prizes by sponsors.
The first prize through a raffle draw is a trip for 2 to Toronto with a 3-night hotel stay worth AED 16,000. The 2nd, 3rd, 4th & 5th prizes are four tickets to attend Dubai Concerts in 2017 through raffle draw (worth AED 3,980). In addition to this, every customer who spends AED 50 on Canadian products at Choithrams is entitled to get a 'scratch and win' coupon. There are 5,000 Tim Horton's coffee vouchers to win. These range between AED 18-AED 20 for a free coffee and doughnut.