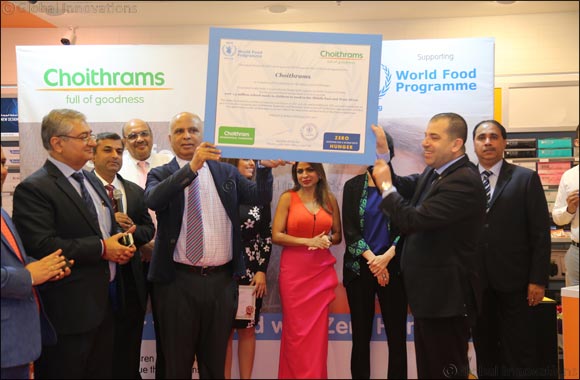 Together, Choithrams and WFP team up for Zero Hunger and Malnutrition in the Middle East and West Africa
Dubai, UAE: 21 February, 2017: Choithrams, a leading supermarket chain in Dubai, concluded the second year of its alliance with the United Nations World Food Programme (WFP) with a generous donation of over AED 1.3 million to deliver nutritious school meals to children in need in the Middle East and West Africa.
Choithrams and WFP joined together in 2015 with the objective of fighting hunger and malnutrition in the Middle East and West Africa, where the company operates. Through this multi-year partnership, the leading supermarket chain reiterated its support to WFP in 2016 with a corporate contribution of AED 918,287 and an additional AED 424,920 contributed as part of an in-store campaign that ran between September and December 2016 across all its supermarkets in Dubai. The amount contributed is 20% more than what Choithrams contributed the previous year and will enable WFP to deliver over 1.3 million meals through its school meals programme.
A ceremony was held earlier today in one of the stores to celebrate the partnership between Choithrams and WFP, the success of their second in-store fundraising campaign and all those who made it possible: Choithrams staff and customers that donated their services to help develop the campaign.
Commenting on the partnership, Choithrams' Chairman LT Pagarani said: "Food is one of human beings' most basic needs and it is every child's fundamental right to get a nutritious meal. Malnutrition and hunger rob people of the potential of a healthy future. Our association with WFP will encourage one and all to help achieve a world with Zero Hunger".
Praising the commitment of Choithrams and its customers, Abdallah Al-Wardat, Director of the WFP Office in the UAE, stated, "A world free of hunger is possible within our lifetime. Investing in zero hunger is the right thing to do and is fundamental to creating a safer, more prosperous world in which all 7 billion people can be active, fulfil their potential and support their community. Choithrams understands that and we are humbled by the genuine dedication of its management, staff and customers and look forward to growing our partnership in the coming years."
As the largest humanitarian organization fighting hunger in some 80 countries worldwide, WFP delivers food assistance in emergencies and works with communities to improve nutrition and build resilience in the long term. As part of these efforts, WFP feeds over 18 million schoolchildren around the globe, which makes it the world's largest provider of school meals. On average, each dirham donated to WFP is enough to provide a child with a nutritious school meal.
Through a yearly corporate contribution of AED 918,287 to WFP, Choithrams funds the distribution of locally-made school meals to 2,100 children in the region of Atacora in Benin and 7,800 in Jordan. These meals work as a powerful incentive for poor parents to continue sending their daughters and sons to school, helping to combat child labour and early marriage. They provide children with a chance to grow strong and healthy, focus in class and pursue their dreams.
In addition to yearly corporate contributions, Choithrams is running a four-month campaign across its 20 supermarkets in Dubai each year to engage its customers and staff in this journey of solidarity with WFP. In 2015, customers contributed by adding a donation on top of their grocery bill. In 2016, Choithrams committed to donate between AED 1 and AED 4 to WFP – the equivalent of 1 to 4 WFP school meals – whenever a customer purchased selected Goodness Foods products between September and December, a campaign that produced an additional contribution of AED 424,920 and will also support WFP's school feeding programme in Jordan.
Subhash Kurup, Corporate Marketing Manager, Choithrams, said, "These are testing times and it is a truly devastating humanitarian crisis. We are really touched by the contribution of our customers. They were all quick to donate and allowed us to raise funds to save people struggling to meet their basic needs. "Choithrams and WFP are already working on expanding their partnership to support more families and strengthen communities through innovative food assistance modalities.