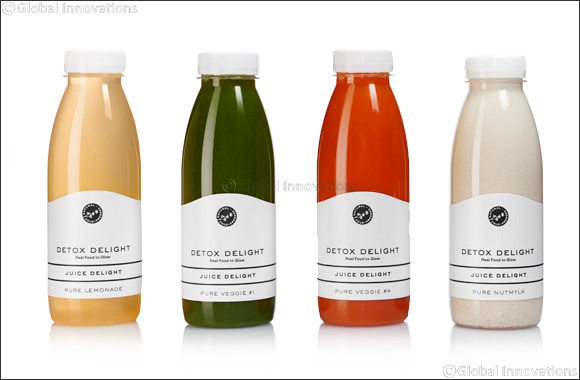 **Hardly any fructose, an extra portion of chlorophyll and few extra calories! **
Dubai, UAE, February 6, 2017: Whether it's Green Juices, Souping, Activated Charcoal or Golden Mylk ... - DETOX DELIGHT brings the latest international health food trends to the UAE. Detox Delight has been one of Europe and the Middle Easts' leading experts in Juice Cleansing and Gourmet Clean Eating programmes for nearly 8 years and is starting 2017 with a real cleanse innovation: PURE VEGGIE DELIGHT.
Pure vegetable juice? No thank you. With the exception of tomato juice it is a taste experience that most people shy away from, and quite rightly so. Vegetable juice has traditionally been associated with an extremely negative taste experience, not to mention smell and colour.
Many classic juice cleanse programmes often contain a high proportion of fruit in their juices. Too much fruit promotes further over-acidification of the body, instead of the desired cleansing effect. Detox Delight therefore always contains at least 50% vegetables in each of its juice bottles.
Better still, Detox Delight has now developed the first pure and tasty vegetable cleanse with PURE VEGGIE DELIGHT, because the Delight professionals are familiar with healthy taste combinations. This new addition cleanse is completely based on abundant vegetable varieties, contains almost no fructose and is thus not only ultra-healthy, but also very low in calories. The perfect choice for genuine healthy lifestyle junkies that are aiming to achieve an even more intense cleanse and detox effect.
* Only 100 delicious calories per bottle!
Chilli, spinach, broccoli, cucumber, celery, fennel and carrot are the pure veggie stars, which are combined and rounded off with electrolytic coconut water, lemon juice, wheatgrass, fresh herbs and ginger to deliver an undoubted taste sensation. Everything is self-evident in the tried and tested Detox Delight quality: from the pure natural, fresh ingredients, made to order in the Dubai Detox Delight kitchens, cold-pressed, completely untreated - without pasteurisation or HPP – to preserve the vitamins and enzymes in the juice.
* Chlorophyll Power for a radiant complexion
PURE VEGGIE DELIGHT juices contain lots of green leafy vegetables, which in turn contain plenty of chlorophyll (the green plant dye). The increased chlorophyll intake during the cleanse program increases the number of red blood cells. They are responsible for the fact that more oxygen is transported into the cells, which stimulates cell renewal in the body. The result is even more energy, and a healthy, radiant complexion.
* A great option for fructose intolerance
PURE VEGGIE DELIGHT is the ideal alternative for people who suffer from fructose malabsorption or fructose intolerance and who have had to do without cold pressed juices or a Juice Cleanse for this reason.
Example ONE DAY VEGGIE CLEANSE AT DETOX DELIGHT:
Water, Lemon, Chili and a touch of stevia as a metabolic booster and for liver support, deliberately not sweetened with agave syrup, maple syrup or dates)
Tastefully rounded, low fructose and chlorophyll rich vegetable juice compositions
Water, Cashews, Cinnamon, Vanilla and a touch of Stevia as an evening protein supply for the active metabolism of fat and hormones (again deliberately not sweetened with agave syrup, maple syrup or dates)
PRICES
Pure Veggie Delight: 1 day (6 bottles - 500 ml each) 330 AED
Pure Veggie Delight: 3-day-cleanse (24 bottles - 500 ml each) 990 AED
Pure Veggie Delight: 5-day-cleanse (36 bottles - 440 ml each) 1650 AED
Originating from Germany, DETOX DELIGHT brings the best in German quality with products handmade from the finest ingredients sourced locally from Greenheart Organic Farms. They are 100% natural, vegan, gluten-free, unpasteurized and without any artificial additives.
More than a juicing company, DETOX DELIGHT also offer Wedding Detox, Ramadan Delight packages, Ice Popsicles and many other healthy options.