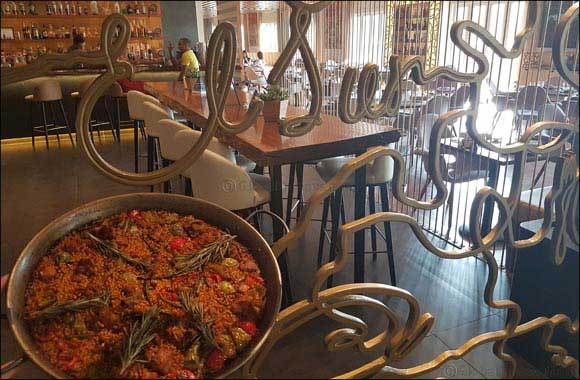 Dubai, UAE, January 31, 2017: If perfectly cooked rice, full of Spanish flavour and packed with fresh authentic ingredients isn't on your radar, then it soon will be with El Sur's new Paella menu, expertly crafted and made by a true Paella master, it is one to tick off the list!
History of the dish
Originating from Eastern Spain, Valencia lays claim to the first Paella and to this day, maintains its age-old recipe. As one of the largest natural ports in the Mediterranean, Valencia has been one of the most important rice-producing areas in Spain since the grain was introduced by the Moors more than 1200 years ago. It has been said by some that the word paella originates from the Arabic word "baqiyah" meaning leftovers and that during the centuries following the establishment of rice in Spain, the peasants of Valencia would use the paella pan to cook rice with easily available ingredients from the countryside: tomatoes, onions and snails.
On special occasions, rabbit or duck might have been included, and those who were better-off could also afford chicken. Little by little, this 'Valencian rice' became more widely known and by the end of the nineteenth century 'paella valenciana' had established itself.
Ruben Guerrero, El Sur's Paella master chef gives us his top tips to achieving paella nirvana:
Make the dish with love. It is one that requires attention and time (3 or four hours per paella) and this will shine through in the final product
Use bomba rice, good quality chicken and homemade stock made from the other ingredients. Each paella has an individual stock made from frying the meat and vegetables together and adding water, this will give it a greater depth of flavour
Stirring is absolutely forbidden, you are aiming for a tender, not creamy result and ensure the consistency is dry
The paella should be slightly burnt on the bottom for an authentic flavor, the crisp layer that forms, the 'socarrat', is a highly prized delicacy
Invest in a good paella pan or skillet, it should be wide, round, shallow and with splayed sides. The key is to maximize the amount of rice touching the bottom of the pan which is where all the flavour lives and will also allow for the right distribution of heat