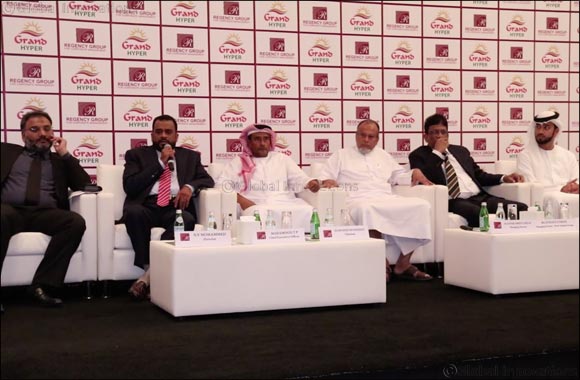 Dubai, UAE, January 30, 2017: Grand Hyper, one of the largest hypermarket chains in the Middle East, owned by Regency Group Dubai, announced the inauguration of its 42nd outlet, at a press conference held at JW Marriot, Jeddaf. The new outlet in Muhaisnah will be inaugurated on 2nd Feb at 4.30pm.The store will offer the best in products, pricing and services and open up a new experience of quality shopping to the inhabitants of Muhaisnah and its neighborhood.
The new Grand Hyper Muhaisnah is spread over an area of 52,000 square feet and will feature an extensive fruit and vegetable section, with the freshest produce exclusively flown in from around the globe, offering uncompromised quality standards. The group's own sourcing centers in India, China, Turkey, Indonesia, Thailand, Sri Lanka and Europe, devoid of middle men, ensure the finest quality inventory at the best available prices. The hypermarket has two floors with ambient space and car parking facility to enjoy the shopping at site. Ground floor will have a spacious supermarket for food, fresh food and other grocery items.
Moreover, the in-house bakery & hot food kitchen will ensure a regular supply of freshly baked breads, patisserie and ready to eat delicacies. The first floor will comprise the department store and will house all major brands in electronics, household, garments, footwear, toys and accessories.
Dr. Anver Ameen Chelat, Managing Director, Regency Group, commented; "Muhaisnah is one of the most populated community in Dubai. Our objective is to transform ourselves to cater to the needs of modern customers, who are becoming increasingly rational. Keeping this as an objective we have launched the Grand App, which can keep our customers informed about the latest offers, products, brands and events at our outlets. We believe this app will help customers get the best bargains, save time and have a better shopping experience"
Regency Group currently has presence in diverse areas of operations across the Asian Continent with strong presence in Middle East, India and China. Established in 1994, the group has a wide portfolio of high growth industries including retail, property management, F&B catering, trading, manufacturing, hospitality and healthcare. The group employs more than 4100 people of different nationalities and serves over 117,000 customers daily. The group is planning to open 2 new stores in UAE, 4 in Kuwait, 2 in Qatar and 3 stores in Oman by December 2017. Retail expansion to Bahrain, Iran, Malaysia, Sri Lanka and East Africa is planned by the group and will become operational by the 1st quarter of 2018. The group has a collective turnover of over US$ 1.5 billion per year.