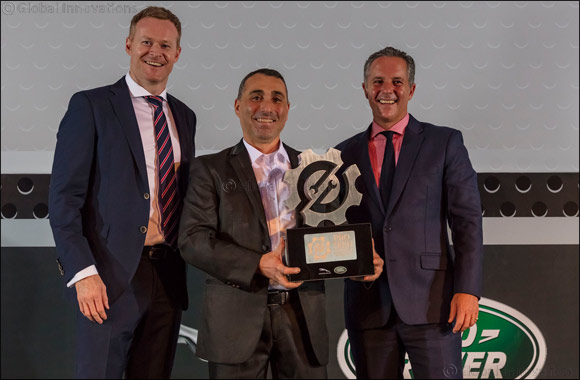 Dubai, UAE, 26 January 2017: Luxury automotive manufacturer, Jaguar Land Rover Middle East and North Africa, just announced Elie Bahri from Saad & Trad (Lebanon) as the Region's Jaguar Technician of the Year 2016 while Alaa Ahmad Chamas from Alfardan Motors (Qatar) was named the Region's Land Rover Technician of the Year 2016. Nabeel Ambalavan from the Al Tayer Motors (UAE) team also took home the newly introduced Regional accolade of Jaguar Land Rover Service Advisor of the Year 2016.
While the company runs its successful Technician of the Year award challenge every year, the new Service Advisor category is testament to Jaguar Land Rovers' growing dedication to supporting customer service with enhanced skilled and knowledgeable staff.
As part of the twelve Jaguar Land Rover finalists who emerged from the Technician of the Year semi-final rounds, Elie Bahri and Alaa Ahmad Chamas competed during the final regional leg of the programme at the Dubai Autodrome, located in Dubai UAE, earlier this week.
Driving the Region's Service Adviser award category forward for the very first time, Nabeel Ambalavan was among the nine finalists who emerged from over ninety competition applicants to showcase mastery in their field and commitment to the customer-first principles Jaguar Land Rover promises both Regionally and Globally.
Put to the test through a series of theoretical and practical evaluations, both sets of participants applied their best efforts to demonstrate the expertise Jaguar Land Rover both expects and prides itself on.
Rob Preston, Customer Service Director at Jaguar Land Rover MENA, said: "Our Technician and Service Advisor of the Year award platform is a great way of recognizing and celebrating success of those people in our Jaguar Land Rover team who are making such a valuable contribution to creating first-class experiences for our customers. We place our core values and customer-first principles at the heart of our business and continue to invest in the highly talented pool of individuals who drive our Jaguar Land Rover business forward every day across the region. This year's winners have clearly excelled within their areas of expertise and we are confident this will inspire the same level of distinction across the entire network."
Justin Weaving, Network Development Director at Jaguar Land Rover MENA, said: "Technical and non-technical skill sets are key to delivering an unrivaled customer service experience, a high priority on our business agenda, which is why we were very proud to expand this year's competition to include the Service Advisor category. Our employees play an essential role in driving our business success and future growth in the Region, which is why investment in training and development is paramount to Jaguar Land Rover's performance."
The Middle East and North Africa Jaguar and Land Rover Technicians of the Year 2016 will go on to attend the Global Jaguar Land Rover Technician of the Year finals which will be held in the United Kingdom in November 2017.
Jaguar Land Rover launched a dedicated Regional Training Academy in Dubai in 2014, designed to deliver training programmes to retailers and staff across the entire MENA network. With a regional network forecasted to grow to 58 retailers across 20 markets by 20/21, the Academy serves as a dedicated Regional training facility to enable Jaguar Land Rover to replicate the in-depth training offered by its UK-based Academy.