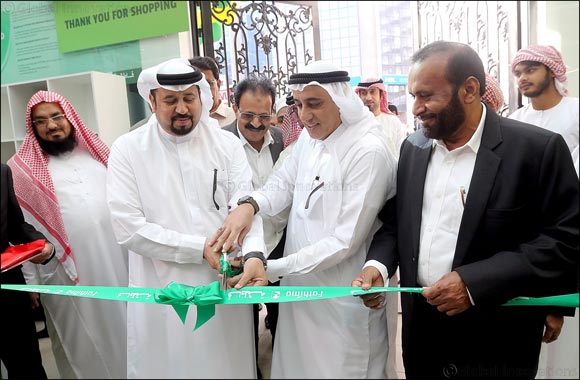 The 35,000-sq.ft. hypermarket, located on Khalid Bin Walid Street, will serve residents in the busy Bur Dubai area.
The UAE-based business conglomerate will soon unveil 4 more hypermarkets, further consolidating its retail presence in the GCC and India.
Dubai, UAE, January 15, 2017: Fathima Group, the UAE-based retail major, opened its largest hypermarket in Dubai in line with its wider growth plan in the GCC retail sector. The new hypermarket, spanning over a massive area of 35,000-sq.ft., is located on Khalid Bin Walid Street in Bur Dubai.
Fathima Group of Companies is one of the oldest companies in the UAE with operations in 22 business verticals and a number of own brands to its portfolio. The Group operates a chain of hypermarkets, supermarkets and department stores that enjoy a strong brand recognition and reputation among shoppers across the GCC and India.
Brigadier Dr. Matar Hameed Al Shamsi from Ajman Police General Headquarters inaugurated the new hypermarket in the presence of Fathima Group Chairman Mr. E.P. Moosa Haji, Managing Director Mr. E.P. Sulaiman Haji, CEO Mr. Sameer Sulaiman and other senior dignitaries.
Commenting on the opening of its flagship store in Dubai, Mr. E.P. Moosa Haji, Chairman of Fathima Group, said, "We are proud to open our flagship hypermarket in the heart of Dubai aimed at serving residents in the busy Bur Dubai area. We continue to grow our hypermarket chain in the UAE and beyond with the addition of four more outlets that would address the current demand for convenient stores in the region and India."
"We are extremely grateful to the visionary Rulers and people of this country, the foundation of our business that started out in 1968 in Abu Dhabi and grew together being encouraged in all our expansion strategies and efforts. We have seen a steady growth in our retail business and hope to keep the momentum. Over the years, we have achieved great success with over 3,000 employees and tens of thousands of loyal shoppers," he added.
Mr. E.P. Sulaiman Haji, Managing Director of Fathima Group, said, "Fathima Group is a highly respected regional retailer and the new outlet in Bur Dubai will play an integral role in showcasing affordable retail offering to the residents in the vicinity and the surrounding areas as a one-stop destination for all shopping needs. Our outlets provide the widest range of quality and value-for-money products all under one roof. We source products from suppliers around the world and has a strong logistical structure in place."
"With the opening of the new outlet, the Group reinforces itself firmly to the modern, customer-centric retail landscape of the region. We are looking for a wider market segment in the GCC and India and are aligning our operations in line with the retail trends emerging for the past few years," he added.
Mr. Sameer Sulaiman, CEO of the Group, said, "We are opening here in one of the most populated areas of Dubai with dedicated service to ensure our shoppers a comfortable and complete shopping experience. We are committed to ensuring great service and convenience to all our shoppers. Consistent growth in our business has bought in remarkable changes over the years. Quality, consistency and sustainability are the hallmark of our value system that has been cascaded across the organization at all times. We have streamlined our operations to create a high level of efficiency that delivers the best quality products to our shoppers at competitive price."
"We hope this is the right time for us to open more outlets to provide value to the shoppers. Fathima Group also wants to be present in locations that would be beneficial to our shoppers. The four new hypermarkets to be rolled out by Fathima Group in the near future are planned in in Sharfiya, Jeddah in Saudi Arabia, Sobha City - Thrissur in India; Ras Al Khaimah, and Sharjah in the UAE. These outlets would focus on grocery, fresh fruit and vegetables, electronics, household appliances, fashion garments, luggage and other daily need products with a product range that are tailored to the large multinational population in these regions," he elaborated.
The new hypermarket, laid out with the best facilities for the convenience of shoppers and product variety in mind, offers a range of world-class products and brands at the fairest price. The outlet is spread in two levels showcasing everything from grocery, foodstuff including fresh fruits and vegetables, bakery, fish, meat and poultry, roastery to household items and health & beauty products on the Ground level.
The Second level displays fashion garments and footwear for men, women and children, in addition to consumer electronics, mobile, fashion jewellery and accessories, among other things. The Ground Floor also houses Al Ghurair Money Exchange, Smart Travels, Life Pharmacy, Hot Food from Bombay Chowpatty