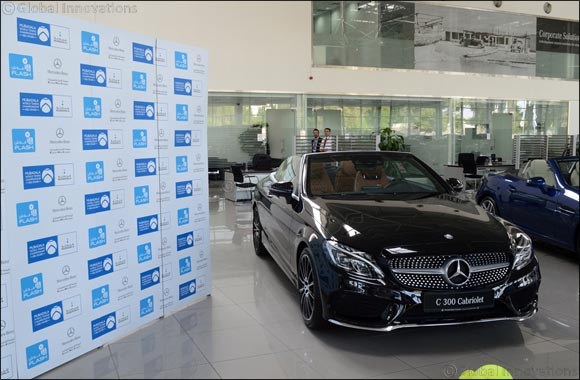 Mubadala World Tennis Championship car sponsor, EMC, announces competition to win a place at the post tournament cocktail party
Tennis clinic session and the chance to do the coin toss at the start of a match among other top prizes
Abu Dhabi: 28 December 2016: Tennis fans are being offered the chance to mingle with some of the best players in the world at the glamourous Mubadala Tennis Cocktail Party.
Tournament car sponsor Emirates Motor Company (EMC) is offering the prize along with several others including a much sought-after place in the tennis clinic, passes to the tournament, the chance to do the coin toss at the start of the 3rdand 4thmatches, and an AMG track experience at the Yas Marina Circuit.
Current world number one, three-time Grand Slam Champion and double Olympic Gold-medalist, Andy Murray, heads an all-star line-up at this year's Mubadala World Tennis Championship, with Milos Raonic, Jo-Wilfried Tsonga and Thomas Berdych also being joined by the defending champion Rafael Nadal.
The tournament has established a reputation as one of the UAE's unmissable events and is expected to draw huge crowds to Abu Dhabi again this year.
Tennis enthusiasts looking to grab one of the great prizes being offered by EMC are encouraged to enter the competition by playing #GameSetMatch on the Mercedes Benz Abu Dhabi Facebook page (https://www.facebook.com/MercedesBenzAbuDhabi/) or in person at the mobile showroom in the Tennis Village at Zayed Sports City, where the fabulous Mercedes-Benz GLC Coupe and C-Class Cabriolet will be on display.
Emirates Motor Company (EMC) is the authorised Mercedes-Benz distributor in Abu Dhabi and flagship company of Al Fahim Group. The family firm has a long and proud heritage in the capital and is delighted to be sponsoring a tournament that once again puts Abu Dhabi back in the global spotlight.
Ramez Youssef, Head of Marketing & Communications at Al Fahim Group, said, "We're thrilled to be partnering with one of Abu Dhabi's most exclusive events and helping to shape what will be an even more exciting tournament with EMC's' involvement.
"We eagerly await giving fans the chance to get up-close to the best players in the world and we look forward to welcoming them to the Mercedes-Benz mobile showroom in the tennis village throughout the tournament."
The 2016 Mubadala World Tennis Championship takes place at Zayed Sports City, Abu Dhabi, from 29th– 31stDecember.
In the unique 'winner takes all' format of the championship, the players will battle it out to claim $250,000 in prize money in the New Year's Eve final.
In addition to the enthralling play, fans will be offered sensational off-court activities in the Tennis Village where they can interact with players via autograph signings and coaching clinics.
Emirates Motor Company has been the authorized general distributor for Mercedes-Benz in Abu Dhabi since 1962, and now houses the world's largest Mercedes-Benz facility.