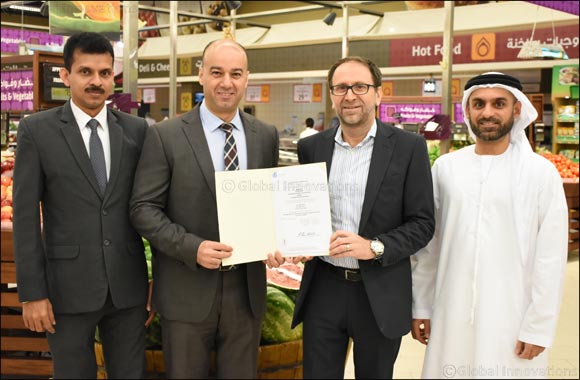 Exceeding customer expectations through successful migration of ISO 9001 and ISO 14001 certifications
Dubai, UAE, 27 December 2016
Leading UAE supermarket and community malls chain, aswaaq, has successfully upgraded its ISO Standards to the latest version 2015, certified by Lloyd's Register Quality Assurance (LRQA), in line with the company's vision to be benchmarked as "world class retailer in the region". The scope of certification covers all its branches and activities including Mall operations, Supermarket, and Corporate Office.
By upgrading to the latest version of the international standards ISO 9001:2015 and ISO 14001:2015, aswaaq has demonstrated its readiness to meet and exceed regulatory and customer expectations. Though ISO is granting a three-year transition period for companies to migrate their existing certifications, aswaaq is one of the first companies in the region to complete transition within the first year itself.
The new ISO 9001:2015 focuses on risk based approaches which helps address organizational risks and opportunities in a structured manner. It also addresses supply chain management more effectively, improved applicability for services and increased leadership requirements.
ISO 14001:2015 underlines aswaaq's ongoing focus on sustainability and environmental protection. As part of aswaaq's Innovation Roadmap, the company continually seeks to implement innovative policies and procedures to maximise efficiency and minimise the impact on the environment. The new certification sets out a framework for company environmental management systems, providing assurance to staff, stakeholders and customers that aswaaq's environmental compliance is being continually monitored and improved.
aswaaq is a brand known with a number of recognitions as awards and certifications. Since the opening of its first supermarket in 2008, aswaaq set a standard to implement and certify the branches against HACCP (Hazard Analysis Critical Control Point) an internationally recognized Food Safety Assurance System which eventually resulted in grading most aswaaq supermarkets and Marts as A grade and obtaining the Green Card from Dubai Municipality Food Control Department. Furthermore, in 2011 the brand has implemented its Quality Management System, ISO 9001:2008 and other Environmental and Safety standards, ISO 14001:2004 and OHSAS 18001:2007 respectively in 2013 and 2014
'The upgrade of our ISO certification to the ISO 9001:2015 and ISO 14001:2015 standards shows our commitment to the highest international standards in quality and sustainability," says Nahla Elawad, Director Corporate Services of aswaaq. "Through this certification, we demonstrate our ability to provide an
outstanding service to our customers, employees and stakeholders, and continue to raise the bar by implementing innovative procedures which minimise our environmental impact."
'The recertification of aswaaq including all of its stores to ISO 9001, ISO 14001 and OHSAS 18001 demonstrates great commitment to customer service, protecting its employees and the environment. Brian Baxter, Area Field Service Manager, LRQA.