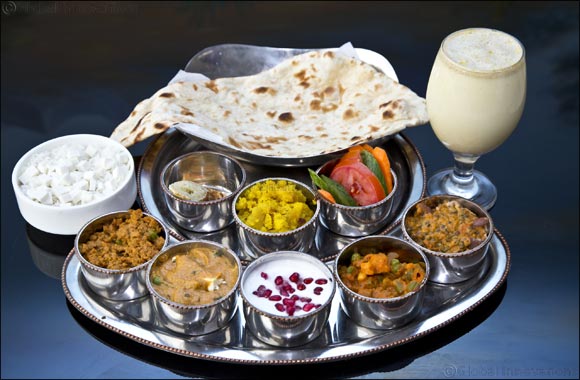 Try an array of vegetarian thali's for your lunchtime fix
22 December 2016, Dubai, UAE: There is nothing better than a satisfying and healthy lunch to give your body that all important boost of energy needed to push the extra mile, while you work through your afternoon. We spend all our energy using our brainpower to solve situations at work or executing daily tasks.
Govinda's thalis provide nutritionally dense and well-balanced meals. Each thali consists of/contains a mix of green vegetables, daals (lentils), Raita (yogurt) and a selection of Indian breads and rice to choose from, before ending with a gratifying dessert.
The thali menu is updated throughout the week, so guests never eat anything twice! Which is another highlight of the thali offering, there is a wide selection of dishes and flavours. There are four thalis available throughout the year at Govinda's – 'Healthy Heart', 'High Protein', 'Low Calorie' (which is under 850 cal) and the 'Diabetic Meal' all containing hand picked fresh ingredients with zero compromise on flavour and taste. During special festivals Executive Chef, Manisha Advani creates Thalis inspired by the season to accommodate expats who live away from family and can enjoy the flavours reminiscent of home.
Highlighting the some of the key points about the concept of Lunch Thali's, Manisha states," 'Thali' literally translates as 'plate' and having a little bit of everything on the plate is what makes up a thali. All our thalis are made with the same intention, to give our diners a healthy choice of ingredients in one meal. Since we follow Sattvic style cooking, it is a holistic approach to food. With a selection of thalis for every dietary restriction we have pleased diners and that's a boost for us."
Govinda's Restaurant also has thali's catering for 'Gluten Free' and 'Vegan' dietary restrictions. Adapting to changing food trends, Govinda's have a wide range of options, which can be customised while dining at this veggie haven.
If you have time during your lunch hour and love vegetarian Indian food, bring your colleagues or family and friends along to enjoy a healthy yet satisfying Thali at Govinda's with a perfect harmony of spices and flavours.
Price: All thali's are for AED 48