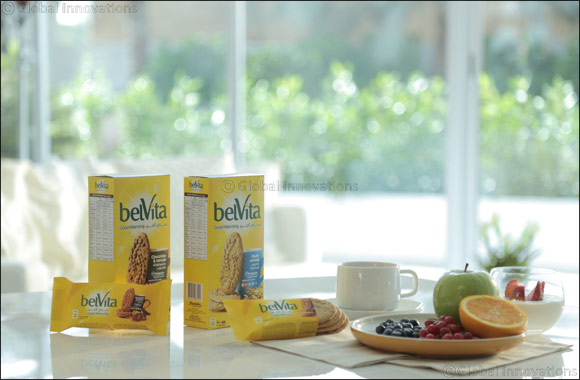 Dubai – 19 December 2016: Breakfast just got tastier and crunchier with the newly launched belVita Good Morning biscuits. A morning snack offering all the necessary nutrients, vitamins, minerals and great taste, with belVita Good Morning biscuits you wouldn't want to miss breakfast again! The ideal combination of taste, convenience and nutrition, belVita is the only breakfast biscuit which, when combined with a balanced breakfast, is proven to sustain energy for up to four hours as it steadily releases carbohydrates to help you kick a buzzing day into motion!
BREAKFAST PAIRINGS
Enjoy belVita Good Morning biscuits as part of a balanced breakfast with a serving of low-fat dairy and fruit, such as:
Fresh strawberries and creamy non-fat Greek yogurt
Crunchy apple slices topped with low-fat cheese
Banana and a non-fat latte for mornings on the go
A frosty fruit smoothie made with low-fat Greek yogurt, frozen blueberries, and ice
Commenting on the launch of belVita Good Morning biscuits in UAE, Alan Smith, Managing Director for Middle East & Africa said: "We are delighted to finally introduce belVita Good Morning biscuit to the region, as it will give the UAE consumers a delicious reason to make breakfast part of their daily routine. belVita has been one of the company's most successful innovations, and we are confident that this globally-loved breakfast biscuit specifically portioned in convenient, individual packs will help consumers enjoy a healthy breakfast no matter what the morning brings."
While most people know the importance of breakfast, global research shows one in three people regularly skip breakfast (reference to global research). Designed for breakfast according to a strict nutrition charter, the belVita Good Morning formula and specially controlled baking process have been developed through extensive research and consultation with nutritionists. Working closely and in harmony with all farming partners, belVita ensures that only the finest whole grains are selected and gently baked to produce the small but oh! so powerful breakfast biscuit.
Stressing the importance of maintaining a balanced breakfast, nutritionist, Nasab El-Eter, said: "We hear time and again that is it important to have breakfast, however, it is also essential to ensure that it is balanced and includes all the required nutrients needed to kick-start your day. It's becoming apparent that our lives are becoming increasingly fast-paced, making our morning hours rushed. Breakfast doesn't need to be a full-blown meal, but a proper mix of a slow-release of carbohydrates along with a portion of dairy, fruit, and drink for hydration."
Born in France as Petit Déjeuner, Mondelēz International launched the belVita brand in 2010 which is now available in 54 countries and has become a global breakfast icon.
belVita Good Morning biscuits are available across hypermarkets and supermarkets in the UAE for AED 2 (50 g pack) and AED 12 (for 300 g).