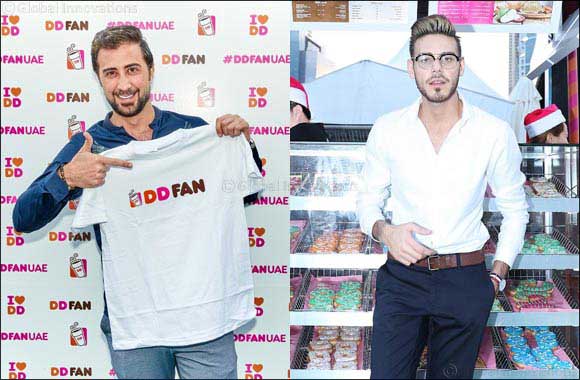 Continental Food Establishment, sole franchisee of the brand in UAE, launches new DD Fan Campaign at the 5th Dubai Winter Festival celebrating the festive season
Dubai, UAE, December 12, 2016: Continental Food Establishment, the sole franchisee of the famous coffee and baked goods brands, Dunkin' Donuts, in the UAE, has unveiled "Arab Idol" star Abdelkarim Hamdan, and Omar Dean, star of "X-Factor Australia" & "The Voice", as the faces of the brand's new DD Fan Campaign.
The new fan outreach campaign was unveiled at the Dubai Winter Festival 2016, the city's largest festive seasonal celebration, which was held at the Dubai Media City amphitheatre from December 8th to 10th 2016.
"The DD Fan Campaign is designed around driving consumer engagement and product awareness across our target audience on social media by using memorable and distinct voices. We are very pleased to have the support of stars the calibre of Abdelkarim Hamdan and Omar Dean for our outreach programme," says, Marwan Salha, CEO of Continental Food Establishment.
The DD Fan Campaign will use star power on social media to highlight the positive energy and optimism that are at the core of the Dunkin' Donuts brand. The campaign brings Dunkin' Donuts' infectious positivity, optimism and hope to extended audiences.
"The DD Fan Campaign's messages of hope, positivity, responsibility, and turning every day into a celebration through infectious energy really resonate with me, and I'm really looking forward to engaging with people on and off social media through these positive messages. I'm proud to have been chosen by Dunkin' Donuts in the UAE to front this campaign," says Arab Idol's star, Abdelkarim Hamdan.
"Dunkin' Donuts is a brand that values energy and positive thinking. I'm delighted to be associated with the brand's values, and want to add my voice to the DD Fan campaign to connect in real and genuine ways with my fans on social media," says "X Factor Australia" & "The Voice" star, Omar Dean.
Now in its 5th year, the Dubai Winter Festival was a powerful platform for Dunkin' Donuts to unveil the stars powering its new campaign. "The Dubai Winter Festival attracts a demographic of people active on social media. Its location in Dubai Media City means our campaign message was heard by the young decision-makers, early adopters and influencers active on social channels," concludes Marwan Salha.