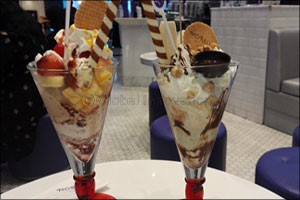 Dubai, UAE, December 12, 2016
This weekend I treated myself to some gelato. I was at the Mall of the Emirates so I tried Morelli's Gelato outlet located near Vox cinemas the other two are in The Dubai Mall and JBR.
Morelli's Gelato prepares fresh gelatos every day in their stores. I find Italian Ice-creams better than the American ones.
I tried Lemon(loved it!!!) and Knickerbocker Glory. it was a healthy dessert cause it was a perfect mix of gelato and fresh seasonal fruits served with fresh whipped cream.
Regular Flavors available are;
Vanilla, Banana, Chocolate, Caramel, Strawberry, Yoghurt, Wild berry, Lemon, Mango, Coffee, Pistachio, Coconut and Nocciola.
I selected Strawberry, soft vanilla and Pistachio.
They have also have hot beverages, a selection of Italian coffees and Karak Chai. I also tried their crepes, stuffed with nutella and served with fresh fruits.
For your friends and family...sharing is caring
Morelli's Gelato provides gift-wrapped liter packs, in any flavor of your choice, packed in insulated containers which give you 90 minutes chilled protection. Orders can be placed in store or by phone.
Excellent and quick service. Yummy Gelatos priced reasonably.