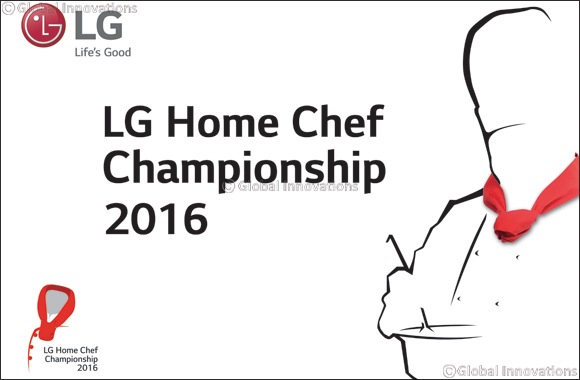 For a chance to compete, become the LG Home Chef UAE and win fantastic LG prizes, participants with a passion for cooking can now nominate themselves at www.facebook.com/LGGulf
Dubai, UAE - December 6, 2016: For those who are great cooks at home and wish to demonstrate their culinary talents in the one-day LG Home Chef Championship in Dubai, registration is now open online at LG Gulf's Facebook page until Monday, December 12, 2016 at 6:00 p.m. (GST).
Shortlisted registrants will compete in LG's Home Chef Championship scheduled for later in December 2016 for a chance to win an LG grand prize and more. Registration is open to residents of the UAE who are 21 years of age or older and who enjoy cooking as a hobby not as a profession.
LG's Home Chef Championship in the UAE takes place at the International Centre for Culinary Arts, a world-class training centre that offers a wide variety of cooking classes and programs. Judging the shortlisted participants during the face-off cooking challenge will be world-renowned Chef Daniel Hiltbrunner, who is a certified Master Chef, member of the Emirates Culinary Guild, the prestigious Academy Culinaire de France and La Chaine des Rotisseurs (CDR) with extensive judging experience as a jury member for CDR's annual international young chef Championship.
The LG Home Chef Championship 2016 is an initiative across multiple LG subsidiary countries in the Middle East and Africa region. Participating subsidiaries include UAE, Saudi Arabia, Iran, and Levant. As an innovator and market leader in home appliances, LG fosters the love of home cooking and allows participants to experience the excitement of LG's home appliances, such as the latest LG Gas Cooker, through the LG Home Chef Championship.