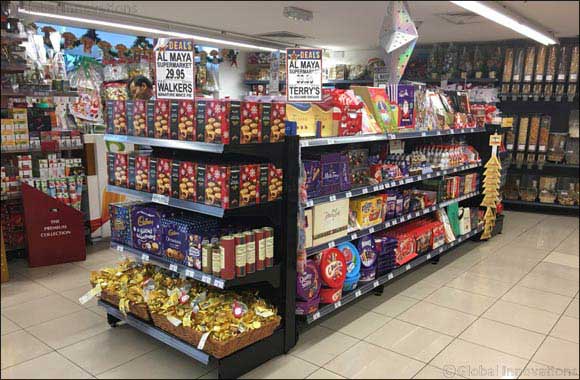 LET THE CHRISTMAS SHOPPING BEGIN WITH AL MAYA
AL MAYA SUPERMARKETS DECKED UP FOR CHRISTMAS
Dubai, UAE, December 5, 2016: The festivities of December has begun with the National day celebrations weekend and will continue through the month reaching it's peak during the week preceding Christmas and post until new year's day.
Al Maya supermarkets are all dressed up for the season with the best range of Christmas themed offerings, from Christmas drapes to yule logs and mince pies to an exclusive range of imported confectionery and chocolates, differentiates the Al Maya Supermarket offering, informed Mr Kamal Vachani, Group Director, Al Maya Group. Al Maya supermarkets has 24hrs free home delivery service, added Mr Kamal Vachani.
The Christmas range includes Christmas trees, Ornaments, Decoration Balls, Lights, Figurines, Flowers, Cards, Wraps, Bags, Tags and Bows, Gift Hampers, Santa Dress, Christmas Chocolate and Confectionery, Cake, Pudding, Cookie, Cup Cake, Christmas Ginger Bread, Sauces and Condiments, Home Baking, Fruits and Vegetable like Sprouts, Green Peas, Green Beans, Baby Carrots, Sweet Potatoes, Parsnips, Asparagus, Fresh Herbs, Cranberries, Strawberry, Blueberry, Chestnuts and Meat categories like Duck, Turkey, Salmon, etc.

Al Maya Group, the UAE based business conglomerate has over 45 supermarkets in the UAE, which includes Dubai, Sharjah, Ajman, Al Ain and Abu Dhabi. Al Maya Supermarket has indexed a healthy growth during 2016 and we expect a better 2017. We currently have a road map of unveiling stores in 2017 and will continuously seek opportunities to have more stores unveiled in 2017.
We at Al Maya plans much in advance for the festive season for our valued shoppers and we import large numbers of FMCG goods, decoration items, Christmas trees, etc. from all over the world to get best products to our shoppers, informed Mr Kamal Vachani.
"Our valuable customers can enjoy their seasonal shopping while enjoying the warm Christmas atmosphere at our outlets," Kamal Vachani concluded.