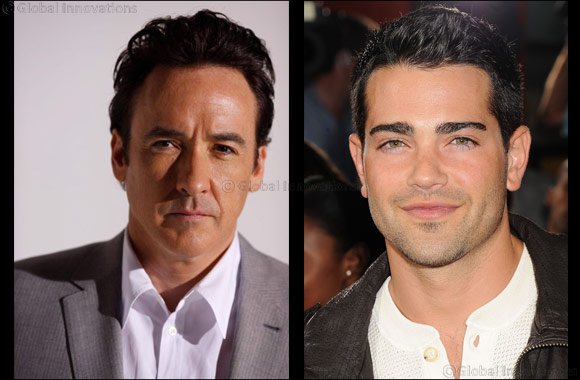 CELEBRITY GUESTS PART OF FESTIVAL'S GOURMET ABU DHABI
Abu Dhabi, 29 November 2016: Hollywood celebrities John Cusack and Jesse Metcalfe are set to join guests for exquisite dining experiences in the Gourmet Abu Dhabi strand of this year's edition of Abu Dhabi Food Festival (ADFF), taking place from 5-23 December across the emirate. ADFF, supported by the emirate's leading hotels, restaurants and malls, is a 19-day festival dedicated to world-class cuisine and culinary delights.
Featuring renowned local and international chefs, ADFF has proved to be a huge hit among the capital's food enthusiasts, and with the addition of two top celebrities this year, the event is set to be bigger and better than ever.
"These two stars represent a fantastic addition to this year's Abu Dhabi Food Festival, adding that little bit of stardust seasoning to our already popular event," said Sultan Al Dhaheri, Acting Executive Director Tourism Sector, TCA Abu Dhabi.
"We are honoured to be hosting both actors, and their involvement adds another element to an event that is truly international in scope and appeal. We know adding both John Cusack and Jesse Metcalfe to this year's ADFF will give fans of both food and film a huge thrill during our 19-day festival," Al Dhaheri added.
First to arrive in Abu Dhabi is rising star and Hollywood heartthrob Jesse Metcalfe. On the 9th December, Metcalfe will make a special appearances at one of Abu Dhabi's most impressive restaurants Catch, at the Nation Riviera Beach Club, dining and interacting with guests as part of Gourmet Abu Dhabi's celebrity hosted events.
Metcalfe, best known for his breakout role opposite Eva Longoria in the award-winning television series Desperate Housewives, also carried the leading role in John Tucker Must Die and played the role of Christopher Ewing in TNT's continuation of TV soap opera Dallas.
On 16th December, 12 lucky gourmet food lovers will share a table with Cusack at Emirates Palace's Presidential Suite, a unique opportunity to interact with one of Tinseltown's elite. Having first gained the attention of audiences by starring in a number of 1980s film classics such as The Sure Thing, Say Anything and Sixteen Candle, Cusack rose to stardom by broadening his acting repertoire, moving away from teenage heartthrob motion pictures to headlining dramas, comedies and thrillers including The Grifters, Eight Men Out, Being John Malkovich, High Fidelity and Grosse Pointe Blank.
Boasting a long roster of acting accolades spanning the course of two decades, Cusack was in 2012, awarded the 2,469th star on Hollywood Walk of Fame in honour of his accomplishments in film. After the Emirates Palace event, Cusack will also attend a dinner at the Ritz-Carlton Abu Dhabi the following night, December 17th.
Tickets for these celebrity events will be available on tixbox.com.
The Gourmet Abu Dhabi strand of the festival, which was launched in 2009, will also feature exceptional food experiences with celebrity chefs in a variety of world-class venues, including a golf-themed event, with the return of Gourmet Golf, a barbeque event, featuring a collection of supercars, as well as 'High Tea' events, which will combine cutting edge fashion and some spectacular desserts.
Spread over 19 days and taking in three weekends, ADFF will attract both residents and visitors alike to enjoy not only cuisine from some of the best chefs on the planet, but also some of the most scrumptious food-related experiences available anywhere in the world today, complete with themed dinners, food trucks, live entertainment, celebrity chef cooking demonstrations, meet and greets, cook book signings and mall activations that will delight families, children and a broad array of food enthusiasts.