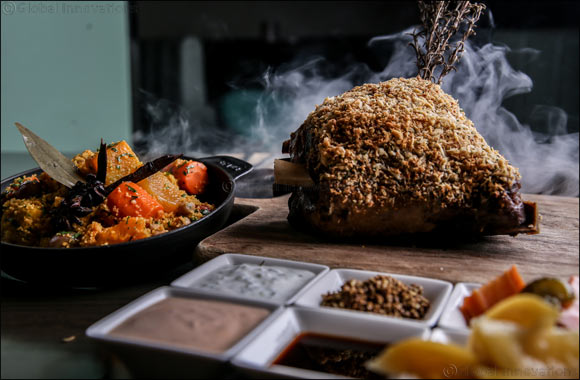 Dubai, UAE, November 27, 2016: Presenting Left Bank's mighty 1.8k shoulder of lamb, a traditional British dish with modern Moroccan twist. Prepared by marinating the lamb shoulder in duck fat, black peppercorn, bay leaves and rosemary, then left overnight for the flavours to infuse. Ensuring the meat retains its juices, the cut is slowly cooked for 12 hours before being finished with a traditional Dijon mustard crust and served with Moroccan cous cous, Arabic bread, pickles and sweet and spicy dips. Brilliantly blending culinary influences, this must-try dish is sure to become a Left Bank favourite and a show-stopping recipe to recreate at home. Please see the full recipe attached for more details. If you have any questions on the dish please do get in touch.
Confit Lamb Shoulder with Moroccan Cous Cous
Confit Lamb Shoulder
Step 1 - Overnight Marination
Ingredients
1 Piece Lamb Shoulder (1.8 kg - 2.1kg)
100 g Rock Salt
30 g Black Peppercorns
Instructions
Mix salt & Peppercorn together and apply evenly on the lamb shoulder.
Cover with a cling film and rest in the chiller for 12 Hrs.
Step 2 - Cooking the Lamb
Ingredients
1 Kg Duck Fat
4 Pcs Bay Leaves
1 Pcs Garlic Whole
2 Pcs Rosemary Sprigs
10 g Black Peppercorns
Instructions
After 12 hrs of marinating in the fridge, remove and rinse the marinated Lamb shoulder with cold water to remove the marination. Pat dry with a clean kitchen paper and set aside.
Take a large stainless steel container and place the lamb inside. Then cover with Duck Fat and add crushed garlic, rosemary sprigs and whole black peppercorns.
Preheat oven to 90C and cook for 10hrs.
Moroccan Cous Cous
Step 1
Ingredients
75g Carrots (2 cm chunks)
75g Parsnips (2 cm chunks)
75g Pumpkin (2 cm chunks)
35g Shallots
12ml Olive Oil
Instructions
Chop carrots, parsnip & shallots
Place into a tray and mix with good Olive oil. Roast the vegetables in the oven at 180C oven for 10 minutes.
Step 2
Ingredients
2 pcs Cinnamon Sticks
2 pcs Bay Leaves
70ml Vegetable Stock
6g Harrissa Paste
6g Preserved Lemon
1g Salt
2Pcs Star Anise
2g Ginger (Ground)
0.5g Turmeric
0.5g Paprika
0.5g Chili Flakes
Pinch of Saffron
Instructions
In a stockpot, place all of the ingredients and bring them to the boil.
Add the roasted vegetables from the oven and simmer for couple of minutes.
Step 3
Ingredients
50g Couscous
20g Dried Apricots
50g Chick Peas Cooked
6g Butter Unsalted
3g Coriander Leaves
Instructions
Place the Cous Cous in a mixing bowl; pour over the hot vegetables with spiced liquid.
Cover with Clingfilm so the Cous Cous will absorb all the flavors and will become soft.
Remove the Clingfilm after 8-10 minutes; add dried apricot, butter and chick peas. Mix well.
Add chopped coriander leaves and correct the seasoning.
Garlic Breadcrumbs
Ingredients
30g Panko Breadcrumbs
5g Chopped Garlic
1g Chopped Rosemary Leaves
15g Butter Unsalted
Salt to taste
Instructions
Heat a non-stick pan, add butter and garlic together.
Cook on low heat for couple of minutes until the butter has melted and the garlic is infused
Add Panko breadcrumbs and cook until light brown in colour and sprinkle salt and chopped rosemary leaves.
Serving
Instructions
Remove the lamb shoulder from the duck fat carefully and place on a tray to drain off the excess fat.
Smother the lamb with 20g Dijon mustard and cover with garlic breadcrumb evenly.
Place in the oven at 180C for 5-6 minutes until the breadcrumbs become crispy and golden brown.
Remove from the oven and carefully transfer on to a serving board.
Place the warm cous cous in a serving bowl and served together with the lamb.
Recommended accompaniments - Cucumber yoghurt, Harrisa Yoghurt, Moroccan BBQ Sauce, Arabic Pickles, Preserved lemon and Dukka spiced Mix